Buy Ingredients
Ingredients
Directions
Top Tips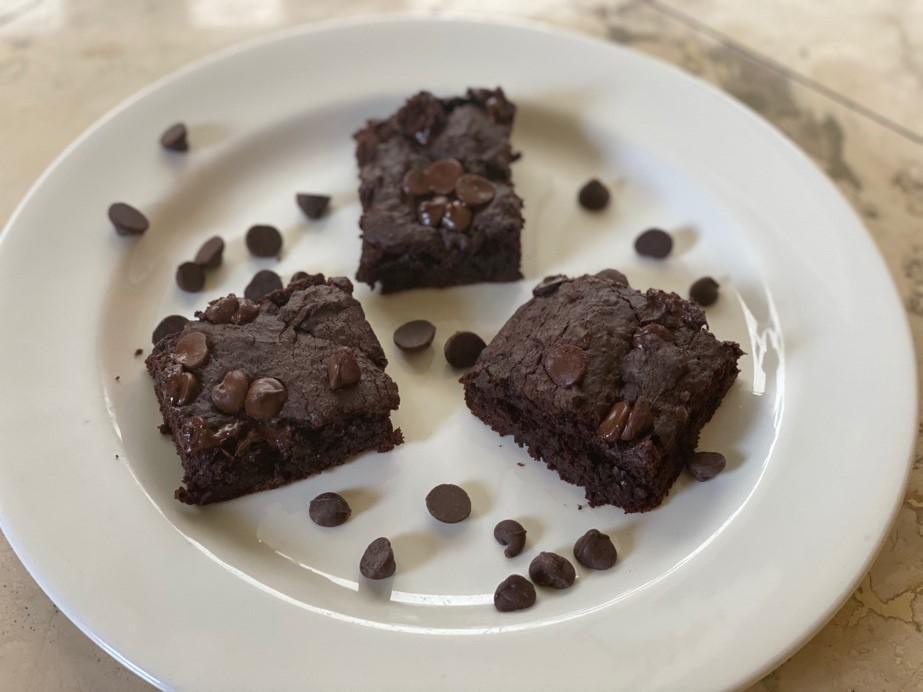 Who doesn't love Vegan brownies!? This vegan version is sinfully delicious and oh so simple. Simply mix the ingredients and bake this incredible deliciousness for 35-40 minutes. Remove from the oven, let it cool and enjoy. We promise you won't be disappointed!
Vegan Brownies Recipe
Prep Time:

50 minutes

Servings:

6
Here's what you need:
Main Ingredients
4 tablespoons ground flax
1/2 cup water
1/2 cup vegan butter, melted
1 cup brown sugar
1 cup all purpose flour
1 cup unsweetened cacao powder
1 teaspoon baking powder
1 cup non-dairy chocolate chips
Directions
Make the flax eggs by stirring the ground flax and water in a small bowl. Set aside to thicken.
Preheat the oven to 350 degrees F and line a 7 x 11 pan with parchment paper.

Melt the vegan butter and measure 1/2 cup. I do this by microwaving the vegan butter.

In a large bowl, whisk the melted vegan butter and vegan sugars together. Add the flax eggs and whisk until evenly combined.

Add flour and cocoa powder. Add the baking powder and stir until just combined, do not over mix.
Fold in half of the chocolate chips. Pour the batter into the prepared pan and smooth out the top with a spoon or your hands. Sprinkle the rest of the choclate chips on top of the batter.
Bake for 35-40 minutes. The brownies may still be bubbling and not look done, but they will firm up a lot as they cool.
Remove from the oven, allow to cool in the pan for 15 minutes, then pull the brownies out, using the parchment paper and let cool for another 15-30 minutes before slicing and serving.
If you love this recipe…
Buy products in the recipe
Please choose options for all selected products:
Recipes You Also May Like