Buy Ingredients
Ingredients
Directions
Top Tips
Roasted Kabocha Squash With Orange Tahini Sauce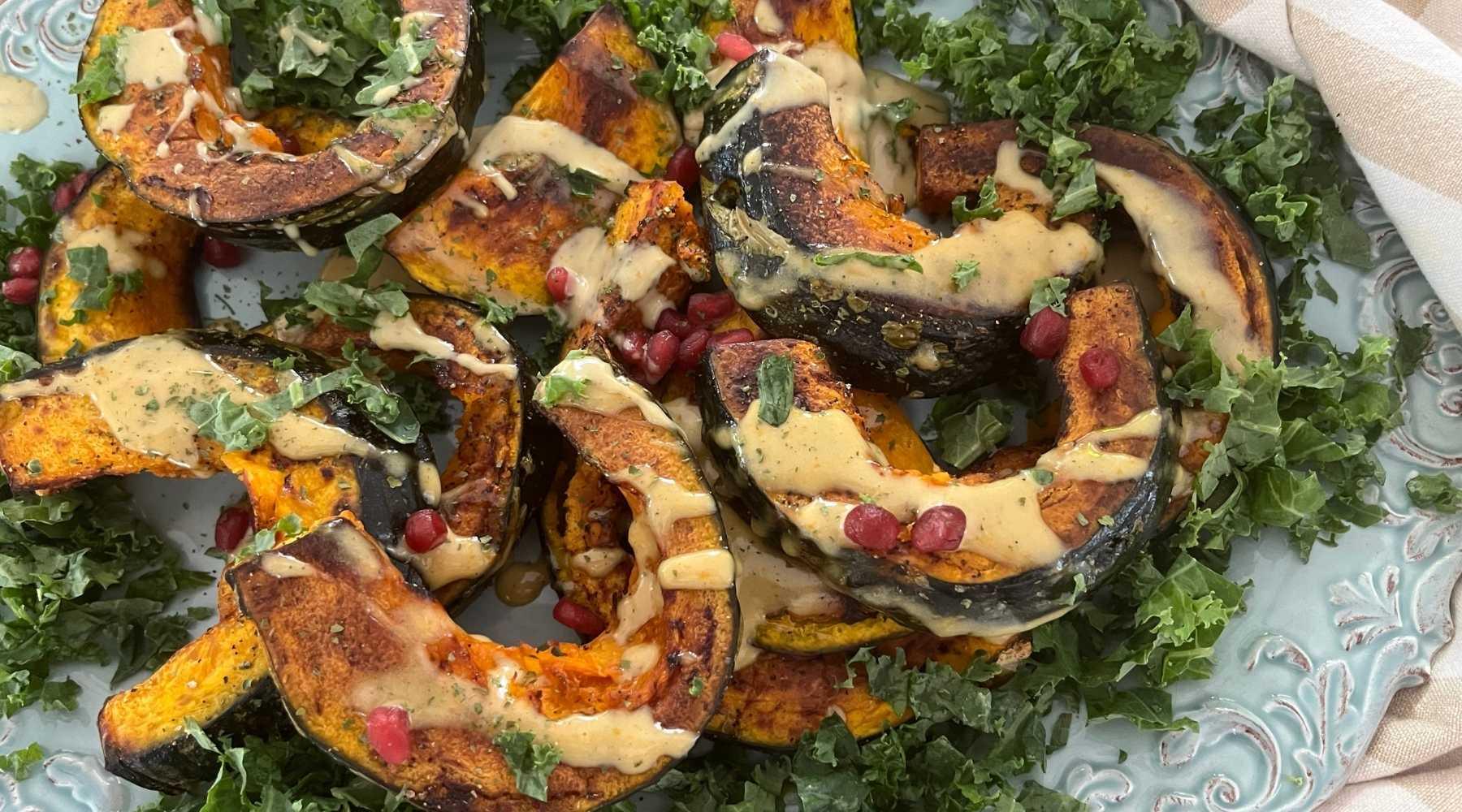 Looking for a Kabocha Squash Recipe to wow your guests? We've found it. Fruity. Nutty. Exciting. This orangey kabocha squash delight is the secret to happy tummies and perfect for al fresco dining on a summer's afternoon. And, with just 15 minutes of prep time, what's not to like? 
Mmmmm. Is there any better winter veg than squash? We don't think so. With its sweet and nutty taste, this orange delight has earned its place on our dinner plates. And 'kabocha' (a Japanese variety of squash) is no exception. But, with its strong and vibrant flavor, it can be hard to know how to cook kabocha squash to really do it justice…
That's where we come in. 
This Roasted Kabocha Squash Recipe with Orange Tahini Sauce is all about showcasing epic kabocha squash flavor at its finest - by keeping it simple! With just a few delicious additions of orange, tahini, agave, and pomegranate seeds, this Kabocha Squash Recipe is a celebration of all things fruity!
The result? A fresh and tasty vibrant veg treat full of exciting flavors and textures. It's perfect for sharing with guests and centering vegan summer platters. Our tummies are rumbling just thinking about it…
So, what are you waiting for? Let's get cooking!
Key Information: 
Prep time: 15 minutes
Cook time: 35-40 minutes
Total time: 50-55 minutes
Serves: 3-4 as a main course and 6-8 as a side dish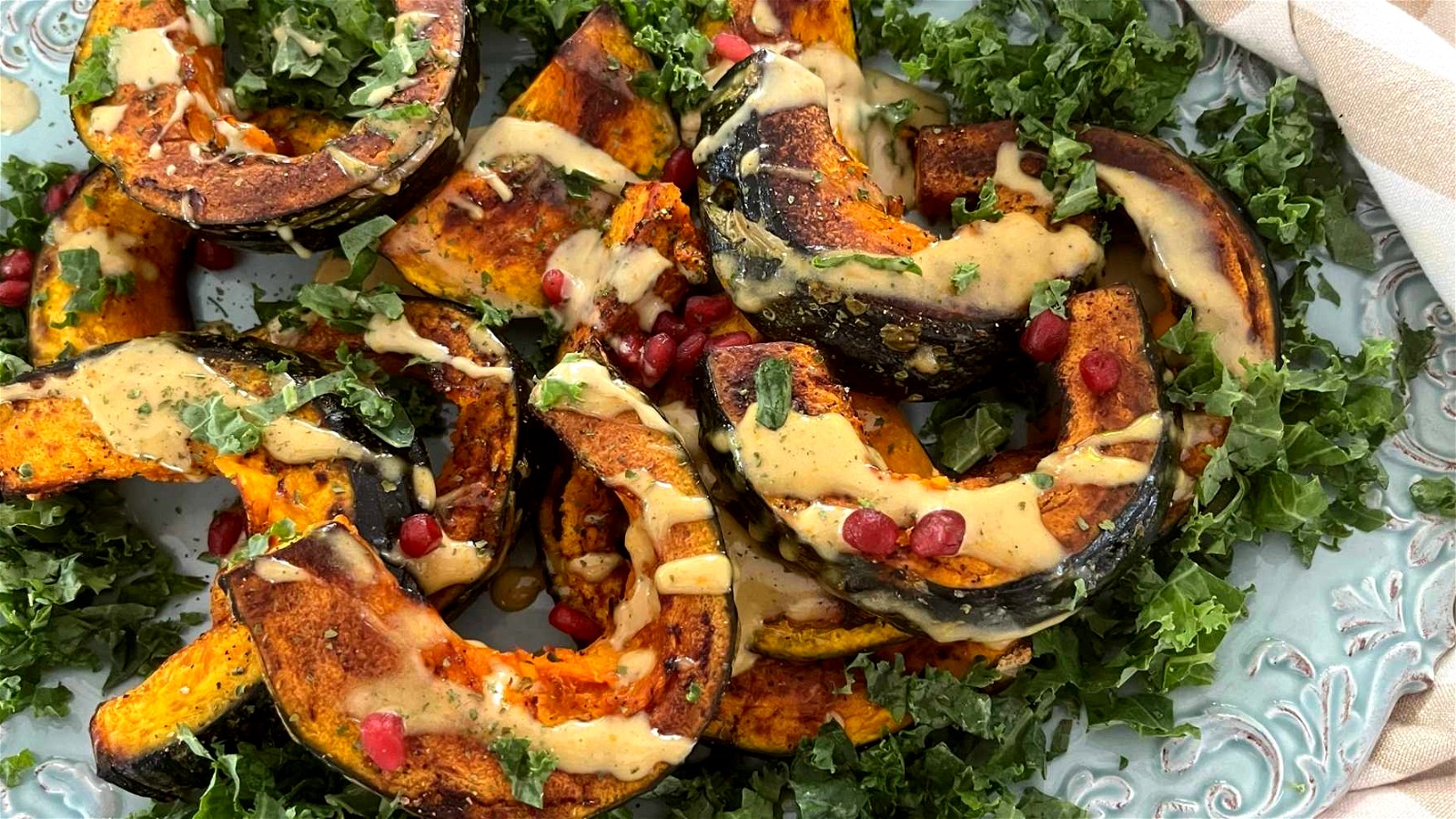 Roasted Kabocha Squash With Orange Tahini Sauce
Prep Time:

15 minutes

Servings:

3-4
Here's what you need:
Main Ingredients
For the squash:
1 kabocha squash halved, seeded, and sliced into ¾ inch wedges
2 tbsp avocado oil
½ tsp salt
¼ tsp black pepper
For the orange tahini sauce:
½ cup tahini
¼ cup EVOO
1 tbsp orange zest
¼ cup orange juice
2 tbsp maple syrup or agave syrup
3 - 4 tbsp of water or more
¼ cup pomegranate seeds sprinkled over the squash before serving
Kale cut very small and dried thyme for garnish
Directions
For the squash:
Preheat oven to 400 degrees F.
Warm the whole squash in the microwave for 2-4 minutes, turning it each minute. Doing this will make it easier to slice.
Prepare a baking sheet with parchment paper.
Cut the squash in half and scoop out the seeds. Then slice each half into 1-inch wedges.
Arrange the squash in a single layer on the prepared baking sheet.
Lightly coat each wedge with avocado oil and sprinkle with salt and pepper.
Roast for 20 minutes.
Flip the slices and roast for another 15-20 minutes until the squash is golden brown and tender.
For the sauce:
While the squash is roasting.
Blend, process or whisk together the tahini, olive oil, orange zest, orange juice, & maple syrup.
Add water 1 tablespoon at a time until desired consistency is reached.
The end result:
When the squash is roasted and cooled slightly, arrange it on a platter.
Sprinkle with thyme or parsley.
Garnish with kale and pomegranate seeds.
Drizzle the tahini orange sauce generously over the squash and enjoy!
Top Tips
Our top tip for this Roasted Kabocha Squash Recipe? Keep the seeds! The squash seeds aren't necessary for this recipe, but that doesn't mean you should chuck them out. Try roasting them separately to the squash with some salt and pepper.

They will make a delicious crispy snack that can be used as a garnish on soups and salads, eaten on their own, or even sprinkled on top of this Roasted Kabocha Squash Recipe when it is finished! These crispy little seeds can be eaten straight away, or after a few days, so they are definitely worth saving.

Want to make it yours?

If you want to zhush up this Kabocha Squash Recipe with your own special twist, we've got a few ideas about where to start.

Add garlic powder
Add a pinch of cayenne or red pepper flakes
Add 1 teaspoon of cinnamon

Garnishes are another great way of adding extra depth to Vegan Kabocha Squash Recipes. For example, you could try adding…

Thinly sliced green onions
Sesame seeds

Alternatively, if you are not a big fan of orange, you can always dial down the orange flavor in the Kabocha Squash Recipe by omitting the zest and only adding the orange juice. Or, keep it really simple and just roast the butternut squash with oil, salt, and pepper, then just drizzle a little maple syrup when the roasting is done!

Finally, if you are looking for more excuses to add this Kabocha Squash Recipe to your meal plans, why not cut the wedges into bite-size pieces and toss them into a salad?
To Wrap It All Up...
So, there you have it! The perfect Kabocha Squash Recipe for vibrant roasted kabocha squash with an exotic twist. And, yes - it really is that simple! Our favorite types of recipes are the ones that don't take a lot of effort, but taste like they do. And, trust us, with its luxury taste, serve this dish to your friends and family and they will think you have spent hours in the kitchen. We recommend pairing this Kabocha Squash Recipe with some summer salads, fresh bread, and dips to make a fresh and tasty feast that you can scoff all afternoon. Or, if you want to pair it down, why not serve it wil some rice or couscous to enjoy your mid-week meals to the max? The choice is yours. The only non-negotiable? You have to try this recipe - unless you want to miss out!
Frequently Asked Questions
If you love this recipe…
If you want to enjoy more recipes that showcase delicious veggies at their finest, then PlantX is the place to look. Here are some more ideas for yummy savory treats you can cook up in no time…
Crispy Kale Chips - this recipe for deliciously salty roasted kale is the perfect superfood snack or side to a Mediterranean feast.
Couscous Salad With Avocado Almond Crust - this fresh summer salad is the perfect balance of veg, carbs, and nuts and only takes 15 minutes to cook!
Lentil Salad - lentils, fresh veggies, and lime juice come together in the vibrant side salad. It is delicious on its own, or would pair perfectly next to this Roasted Kabocha Squash recipe!
Share this Kabocha Squash Recipe
Did you make the recipe? We want to see!
Tag @GoPlantX on Instagram.
Buy products in the recipe
Please choose options for all selected products:
Recipes You Also May Like