Buy Ingredients
Ingredients
Directions
Top Tips
Stop whatever you are doing! There's a new snack in town - and it absolutely must be tried. It's a superfood. It's insanely delicious. It can be cooked in a matter of minutes. AND, it's 100% vegan…. 
Crispy Kale Chips are the latest new vegan trend and they may just be the greatest culinary discovery you will ever make. Small pieces of superfood veg, cooked up into crispy bitesize chips that are salty and crunchy in all the right ways… what's not to love?
And, when you find out the recipe for these kale beauties, you will be shocked at how easy they are to make at home! Here's everything you need to know about crispy kale chips, including your very own ultimate crispy kale chips recipe! 
Let's Talk Taste…
So, what do these crispy little chips taste like? 
Well, if you have had kale before, you may think you know everything it has to offer, right? Wrong. Just like potatoes are transformed into potato chips, crispy kale chips take kale to whole new heights. 
Cooked in the oven, your kale will crisp up into chips that are unbelievably crunchy, yet still, melt in the mouth. With olive oil and salt, their green, strong, and earthy kale flavor is elevated into a salty chip which is subtly delicious and incredibly moreish. 
The only problem? Knowing when to stop eating. 
Recipe Details 
With just three ingredients, this Crispy Kale Chips Recipe could not be simpler to whip up as a quick snack treat whenever you fancy it. And, if, like us, you can't get enough of this savory veg masterpiece why not serve them as a side with your favorite dinners? They would work perfectly with a Roast Dinner for example, or, why not serve them alongside some sausages?
Ready in 25 minutes, with just 5 minutes of prep time and up to 20 minutes of cook time, these crispy beauties don't take long. Here is a recipe to whip up 1 serving…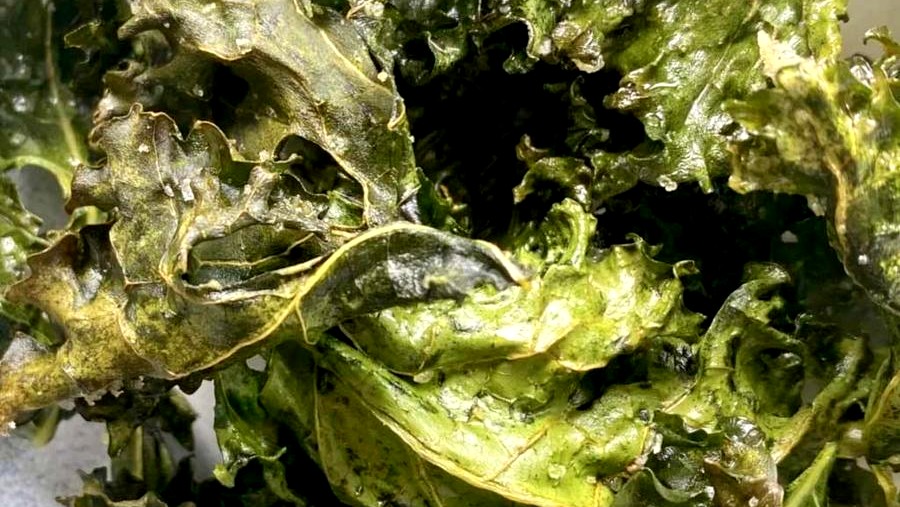 Crispy Kale Chips Recipe
Category:

Snacks

Prep Time:

5 minutes

Servings:

1
Here's what you need:
Main Ingredients
4 kale leaves
1 tsp olive oil
1/2 tsp salt
Directions
Preheat the oven to 350 F.
Wash kale leaves and dry with a hand towel or salad spinner.
Carefully remove the leaves from the thick stem and tear them into bite-size pieces.
Massage the kale with olive oil and salt and make sure all leaves get coated well.
Bake for 10-15 minutes.
Note: Keep a close eye on them as they cook quickly, when edges turn brown they can be removed from the oven.
Top Tips
Nutritional Details

You may know that Kale is a superfood, but, what does that actually mean? Well, it means that kale has nutritional benefits which go above and beyond your average fruit or veg.

While kale is low in calories, it is very high in fiber and protein. It also contains incredible amounts of vitamin A, vitamin K, vitamin B6, and vitamin C, as well as calcium, potassium, copper, and manganese. We could go on, but we haven't got all day! The bottom line is that kale is an incredible nutrition bomb, and you would be silly not to include it in your diet, especially when it can be cooked into delicious vegan crispy kale chips!
To Wrap It All Up...
So, what are you waiting for? You have no time to lose. It's time to start cooking and scoffing delicious crispy kale chips, because this super-easy, super-quick, super-yummy, and super-nutrition-packed vegan crispy kale chips recipe is literally too good to miss out on!
If you love this recipe…
Buy products in the recipe
Please choose options for all selected products:
Recipes You Also May Like