Buy Ingredients
Ingredients
Directions
Top Tips
Couscous Salad with Avocado Almond Crust Recipe
A super easy and delicious salad to whip up in 15 minutes! The grilled avocado adds a nice creamy flair to this couscous salad.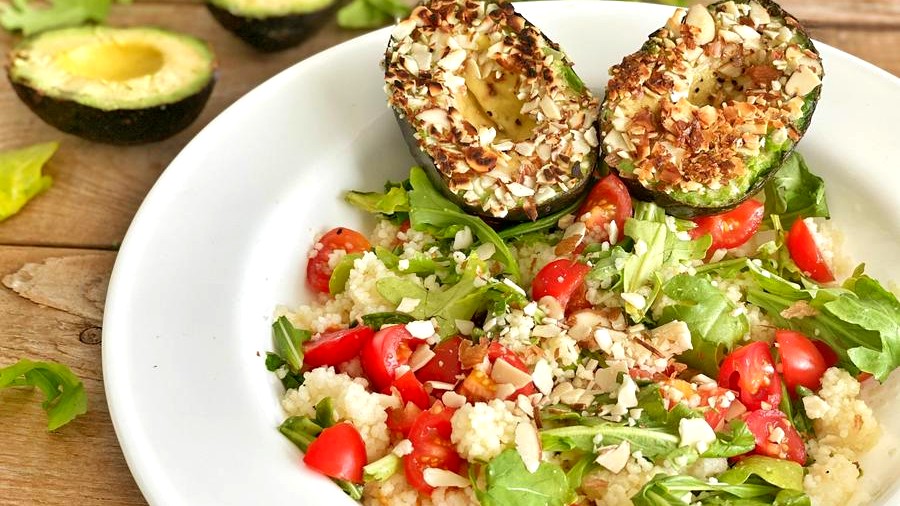 Couscous Salad with Avocado Almond Crust Recipe
Category:

Lunch

Servings:

2
Here's what you need:
Main Ingredients
1 tsp avocado oil
120 g couscous
60 g arugula
180 g cherry tomatoes
1 avocado
1 tbsp crushed almonds
3 tbsp white wine vinegar
6 tbsp vegetable broth
1 tbsp maple syrup
1 tbsp olive oil
salt & pepper
Directions
Cook the Couscous according to the cooking instructions.
Clean the arugula and cut in the middle. Wash the tomatoes and cut them into quarters.
Cut the avocado in half, remove the stone and season the cut surface with salt and pepper.
Place the almonds on a plate and press each avocado side into it.

Heat up a pan with avocado oil and fry the avocado in halves with the soft surface down for around 5 minutes.


Mix the vinegar, vegetable broth, maple syrup and olive and add salt and pepper.
Place the couscous in a bowl. Add the arugula and the tomatoes. Pour the dressing over it and mix well.
Serve the almond-avocado halves together with the couscous salad and enjoy!
If you love this recipe…
Buy products in the recipe
Please choose options for all selected products:
Recipes You Also May Like