Buy Ingredients
Ingredients
Directions
Top Tips
Who doesn't love a delicious, homemade dessert? The wafting, delicious smells of baking are only made better by tasting your creation. But how easy is this berry crisp to make? Well, it couldn't be easier! All you need is ten minutes of prep, getting all the lovely ingredients ready for the oven to work its magic.
Introduction
A stunning marriage of sweetness and tartness, a good, vegan berry crisp can make anyone's day better. If you are a lover of all things berry, then this dessert will definitely be your jam. A mouth-watering berry concoction, topped with the textural delight that is the crisp on top, you are sure to find this vegan berry crisp irresistible. 
This is a great dessert for summer BBQs when berries are in season, only made better when served with some creamy, vegan ice cream. But if you are desperate for it in the coldest depths of winter, it is also amazing when made with frozen berries. This simple recipe provides an absolutely stellar dessert, with easy-to-find ingredients and a method that isn't the length of a novel. 
Perfect for a group of guests, or just as an indulgent treat for the family, this vegan berry crisp will always hit the spot. And it is sure to taste that much sweeter since you made the effort to make it yourself.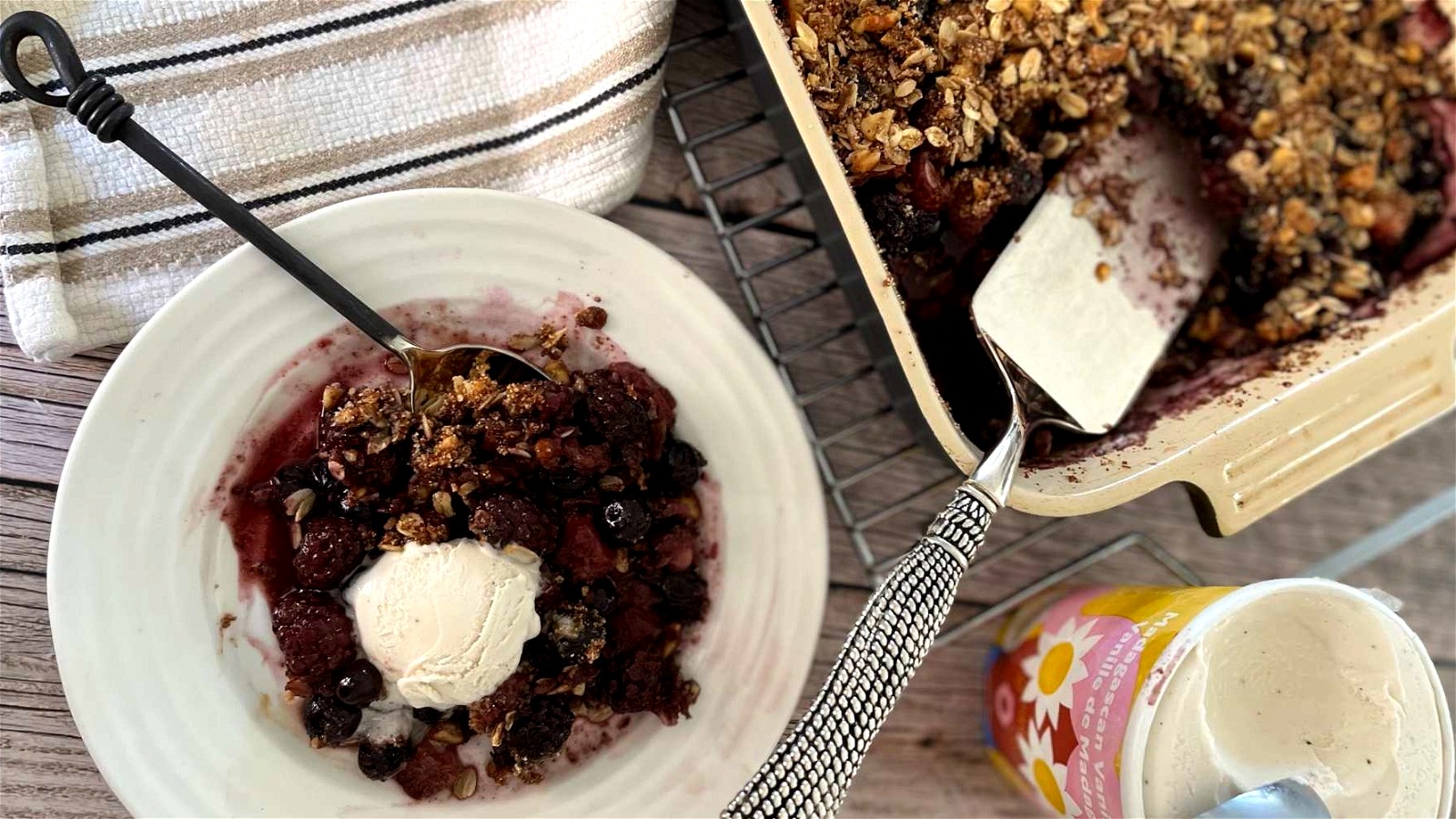 Vegan Berry Crisp Recipe
Prep Time:

10 minutes

Servings:

4 to 6
Here's what you need:
Main Ingredients
Filling:
4 cups of mixed berries (fresh or frozen)
Zest of one lemon
1 Tbsp coconut or date sugar
Pinch of Himalayan or sea salt
Topping:
½ Cup rolled oats (Might want to try One Degree or Bob's Red Mill rolled oats)
½ Cup chopped walnuts or pecans
⅓ Cup coconut sugar or date sugar
¼ Cup almond flour
¾ tsp cinnamon
A pinch of Himalayan or sea salt
2 Tbsp firm coconut oil (Have a little extra for greasing the baking pan
Directions
Preheat the oven to 350 degrees F/ 175 degrees C, with the rack in the middle position.
Mix the rolled oats, chopped walnuts or pecans, almond flour, sugar, and cinnamon together in a large mixing bowl.
Then add the firm coconut oil and, using your hands, mix it up and press it together so that there are pea-size pieces. (You can also pulse this in a food processor, but make sure to do short quick pulses, in order to not over-process and melt the coconut oil.)
In a separate bowl, mix the berries, lemon zest, and coconut sugar together.
Then Pour the berry mixture into a greased 8x8, 9x9, 7x9, or 9-inch pie pan.
Spread the oat & nut mixture on top of the berries and bake uncovered for 50-60 minutes, until the berries are bubbling and the crisp is golden brown.
Serve warm or at room temperature with a scoop of vegan ice cream. It's so, so good!!!
Top Tips
Once you've decided to whip up some vegan berry crisp, you can double your ingredients and make two. After you have prepared them, you can bake one and freeze the other, unbaked. The frozen berry crisp can be kept in the freezer for up to 3 months. That way you can enjoy a tasty dessert straight away, and always have another in the freezer ready to go! It saves time, and if you have any surprise guests coming over, you can wow them with a mouth-watering, homemade dessert. Best of both worlds!

How to Make it your Own

There are several ways you make this yummy recipe your own: 1. Depending on what is in season, or what you prefer or crave, you can keep it interesting by changing up the fruit. 2. You can give an extra textural element to the topping by adding a tablespoon of ground flax or chia seeds to the topping. 3. Give the filling a little extra something by adding 1 tsp vanilla. 4. Simply add more or less topping.
To Wrap It All Up...
There's nothing quite like a homemade dessert and this wonderfully simple, vegan berry crisp is sure to leave a massive impression. Desserts do not need to be incredibly intricate and complicated. What matters most is flavor and with this recipe, you will never be disappointed. It truly is a dessert for all seasons: crispy, fruity and with a scoop of vegan ice cream this is a wonderful summer dessert, and in the winter, its warmth and richness, maybe with a generous helping of vegan custard, is sure to hit the spot. The perfect end to a simple family lunch, or a grand, celebratory dinner, this vegan berry crisp has something for everybody.
Frequently Asked Questions
Not in an unpleasant way! Dates can be an incredibly divisive fruit and many refrain from using it in their baked goods for that reason. Along with coconut sugar, date sugar is a natural sweetener and is often suggested as an alternative to refined sugars. Created when dried whole dates are ground into a fine powder, date sugar still contains the nutrients that stem from the fruit, namely potassium, calcium, and antioxidants. When used in baked goods, it darkens them and gives them a slight caramel flavor, which is only going to add to the overall deliciousness of this berry crisp!
Yes there is, and the difference is very simple really; a crumble is a combination of sugar, flour, and a fat of some kind, and can often feature your preferred nuts. When baked, the topping of a crumble takes on a more clumpy texture. A crisp is made using the same ingredients, with the added textural element of oats. As a result, they have more of a crunchy element as the topping crisps up in the oven, hence the name!
If you love this recipe…
If you are looking for more delectable recipes for vegan desserts, here are some suggestions:
Perfect for any celebration, try this incredibly moist vegan carrot cake recipe with the most amazing vegan icing that will have your mouth watering.
Sometimes you just want to go back to a classic. Well, this vegan brownie recipe will no doubt have you basking in chocolate heaven!
Make dessert nutritious as well as delicious by trying out thisvegan chocolate protein mousse recipe.
Share this recipe
Did you make the recipe? We want to see!
Tag @GoPlantX on Instagram.
Buy products in the recipe
Please choose options for all selected products:
Recipes You Also May Like