Buy Ingredients
Ingredients
Directions
Top Tips
The Best Vegan Carrot Cake Recipe
Is there anything better than a delicious slice of carrot cake? We don't think so. Sweet and spicy in all the right ways, with that legendary cream cheese frosting, carrot cake is basically god-tier cake, and our mouths are watering just thinking about it… 
Perfect for gifting friends, using to impress guests, or just scoffing to yourself, carrot cake is the best treat for every occasion. 
AND, packed full of humble carrots, this yummy sweet treat has got its own unique nutritional benefits that knock other cakes out of the park. Who would have thought you could make such a delicious baked good with our good old friend the carrot? We're not complaining…
But, the question is, is it easy to make carrot cake vegan? The answer is a big fat YES and the great news is it may even be more delicious than any carrot cake you have ever had before. 
Here's our recipe for the very best vegan carrot cake and everything you need to know about how to make it! 
Taste
So, first thing's first, let's talk taste. While carrots are the star of the show in this cake (the clue is in the name), there is so much that goes on behind the scenes. We're talking about the subtle spiced notes of cinnamon and nutmeg. We're talking about the warm sweetness of brown sugar. We're talking about the deep nutty taste of walnuts. We're talking about the yummy bind of flaxseed eggs. 
Basically, we're talking everything delicious whipped together in one baked good. The result? A perfectly balanced vibrant cake that is sweet, but not too sweet, spicy, but not too spicy, carroty, but not too carroty. 
The cherry on top of the cake? Well, it's not a cherry this time that really sets this cake apart, but, instead, the refreshingly tart taste of vegan cream cheese frosting. Sweetened with powdered sugar and flavored with just a slight zing of lemon juice, this icing is truly epic and takes this cake to new heights. 
Recipe Details
Our favorite thing about this vegan carrot cake recipe? How easy it is to make. Ready to eat in around 45 minutes, with just 15 minutes prep time and 30 minutes baking time, this cake proves you don't have to spend all day in the kitchen to make delicious sweet treats. Serving around 8 people, this cake is perfect for serving guests - that's if you can bear to share it!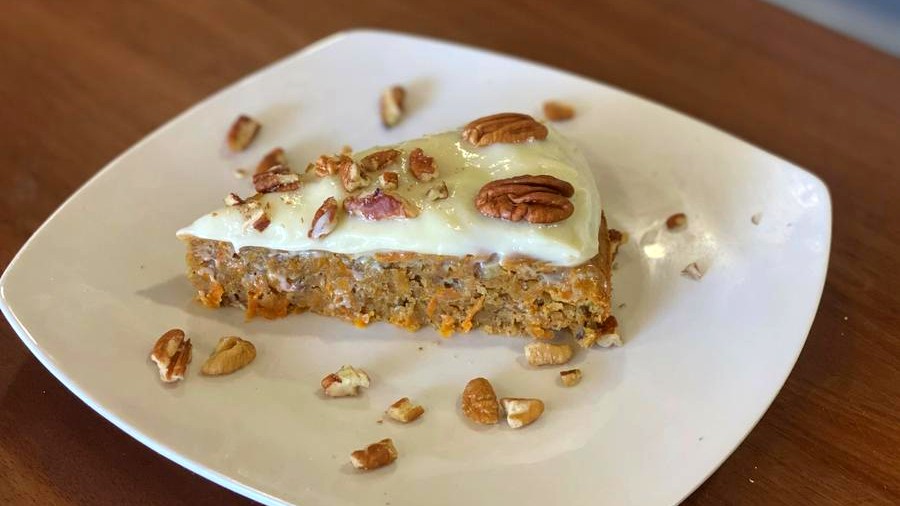 The Best Vegan Carrot Cake Recipe
Here's what you need:
Main Ingredients
2 cups of All-Purpose Flour (250g)
1 tsp Baking Powder
1 tsp Baking Soda
1/2 tsp Salt
2 tsp Frontier Co-op Ground Cinnamon
1 tsp Ground Nutmeg
2 and 1/3 cups Grated Carrot (255g)
1 and 1/2 cups Brown Sugar (300g)
2 Flax Eggs (2 Tbsp Ground Flaxseed Meal with 6 Tbsp Water)
v1/2 cup (120ml) Canola Oil*
1 Tbsp Apple Cider Vinegar
1 cup (100g) Chopped Walnuts (Optional)
Frosting Ingredients
4 oz tub vegan cream cheese, softened
10 oz powdered sugar
3 Tbsp lemon juice
Directions
Preheat the oven to 350°F (180°C) and begin greasing your cake pan.
Sift the flour, baking powder, baking soda, salt, cinnamon and nutmeg into a mixing bowl. Add in your grated carrot and brown sugar into your mixing bowl.
Prepare your flax eggs, by mixing 2tbsp Flaxseed Meal with 6 tbsp water, allowing the mixture to sit for a minute.
In the meantime, add in your canola oil and apple cider vinegar to the mixing bowl. Once your flax eggs are ready, add them to the mixing bowl with your oil and apple cider vinegar.
Add your mixture to the larger mixing bowl with your carrots and flour. Have a little patience and let the batter sit for a minute or two so that the carrots can release more water into the batter to enable you to mix it all together.

*If your batter is still too dry to mix after letting it sit for a couple of minutes (and only if it's too dry to mix after sitting for a few minutes) then add in a little of your preferred non-dairy milk. Only add as much as you need to get the batter to a wet enough consistency so that it can mix properly.

You may mix chopped walnut into your batter mixture for some extra texture, but this is optional.
Place your mixture into your greased cake pan and place into the oven to bake for 30 minutes, or until a toothpick inserted into the center comes out clean.
Set your cake onto a cooling rack and begin preparing your frosting.
Mix your softened cream cheese, powdered sugar, and lemon juice in a stand mixer with a whisk attachment until it becomes creamy and fluffy in texture.
Decorate your carrot cake immediately or place in the fridge for a firmer frosting to work with.
Enjoy!
Top Tips
Nutritional Details

Now, obviously, eating carrot cake is not the same as eating a raw carrot, so we don't recommend scoffing too much of this sweet treat. But, the good news is carrot cake does contain its own unique health benefits when consumed in moderation. While they may be quite high in sugar and fat, carrots contain loads of vitamins and minerals which are great for our health. Not only are carrots great for eye health, but they also contain vitamin C and A which are great for the whole body! So, there's one more reason to have a slice.
To Wrap It All Up...
We could talk about carrot cake all day, but we think it's about time you tried it for yourself. With this vegan carrot cake recipe, you have all the tools you need to make the best vegan carrot cake at home to enjoy with your friends or family. Time to get baking!
If you love this recipe…
Buy products in the recipe
Please choose options for all selected products:
Recipes You Also May Like