Buy Ingredients
Ingredients
Directions
Top Tips
Banana Nice Cream (Vegan, Dairy-Free, Gluten-Free) Recipe
What is Banana Nice Cream?
Banana Nice Cream is a deliciously healthy alternative to ice cream, made with - you've guessed it - bananas! Chances are you've heard of this vegan treat trend that began gracing our screens a few years ago! But just because it may not be the biggest thing on Tik Tok anymore doesn't mean you should forget about it too!
Naturally vegan, gluten-free, dairy-free, and free from refined sugar, Banana Nice Cream is the ideal frozen treat to fit around your dietary needs and healthy weight goals. Our Banana Nice Cream recipe couldn't be easier to make, and we've got a whole bunch of delicious variations to take your guilt-free indulgence to the next level! 
How does it taste? 
Vegan Banana Nice Cream tastes so smooth, sweet, and creamy that you won't believe it's just made from bananas. Does it taste exactly like calorie-laden dairy ice cream? Of course not! Instead, you can expect a light, cold and creamy treat that is as nourishing as it is delicious! 
Banana Nice Cream has a bold banana-y flavor, so if bananas are not your favorite thing, be sure to add in some of our tasty variations like berries, nut butter, or chocolate to balance out the taste. 
As you will learn in our vegan Banana Nice Cream recipe, the first blend comes out with a deliciously melty soft-serve texture. If you prefer your ice cream a little firmer, you can pop it in the freezer for an hour or two to firm up.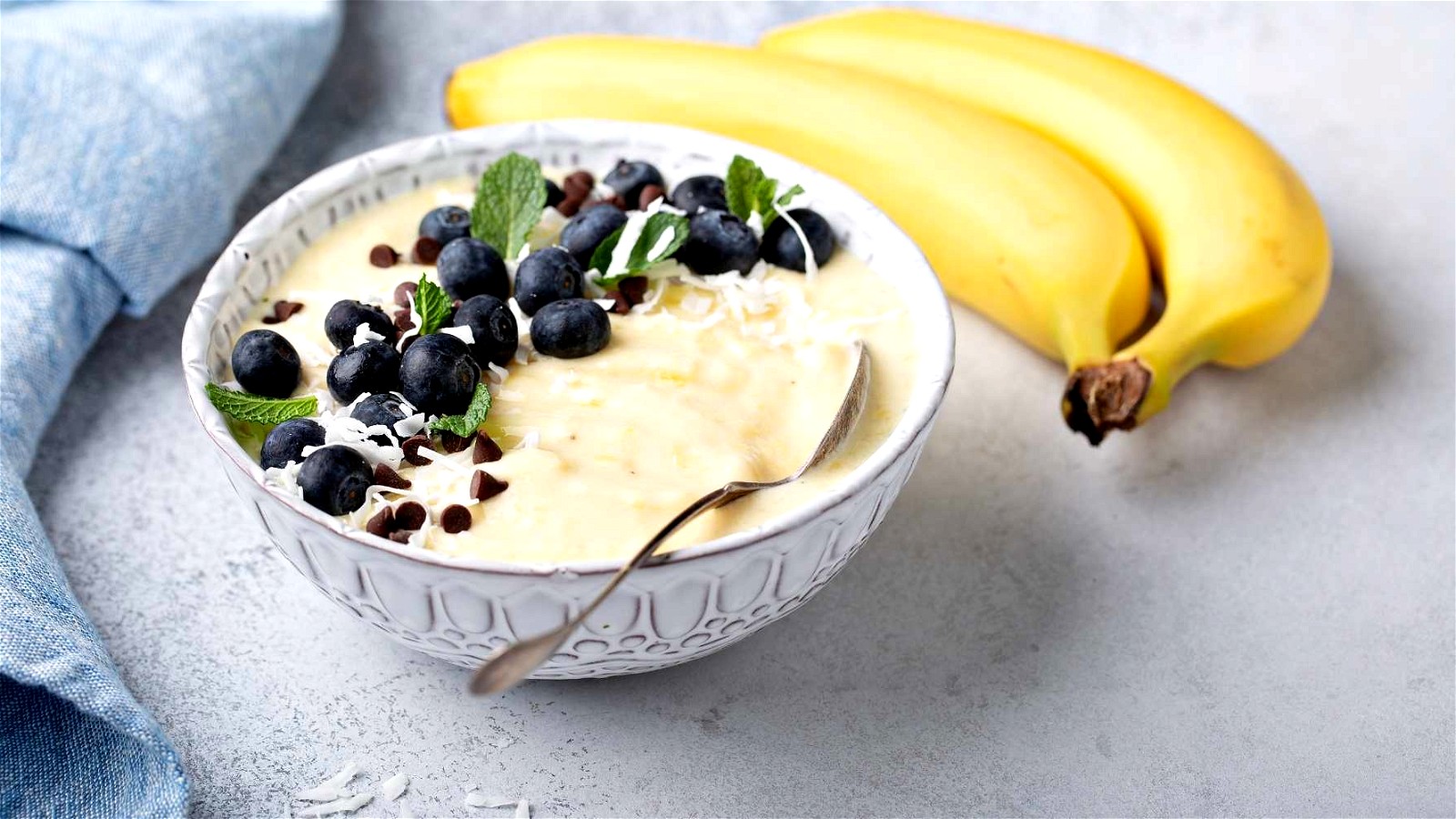 Banana Nice Cream (Vegan, Dairy-Free, Gluten-Free) Recipe
Category:

Small Bites

Prep Time:

10 minutes

Servings:

2.50
Here's what you need:
Main Ingredients
Base Ingedients
2 ½ cups sliced frozen ripe banana (the riper the sweeter it will be!)
1-2 tsp maple syrup or other sweetener of choice (optional)
Vanilla
base recipe + 1 tsp vanilla extract
Strawberry
base recipe + 1 cup frozen strawberries, organic when possible
Mixed Berry
base recipe + 1 cup frozen mixed berries
Green Dream
base recipe + 1 tsp spirulina + 1-2 tsp matcha
Chocolate
base recipe + 2 Tbsp cacao powder + 2 Tbsp nut butter
Peanut Butter
base recipe + 2-3 Tbsp peanut butter or other nut butter of choice
Directions
Freeze Bananas:
Be sure to start with ripe and spotty bananas. Peel and slice into 1/2-inch slices for easier blending (large chunks tax the motor). Then add to a parchment-lined baking sheet and freeze until firm (3-4 hours or overnight).
Food Processor:
Add sliced frozen bananas to a food processor fitted with an "S" blade. Then blend for 4-5 minutes or until completely smooth, fluffy, and blended.
You'll need to stop occasionally to stir and scrape the sides. You'll be left with a soft serve texture. See "FREEZING" below for freezing tips
High-Speed Blender:
Add sliced frozen bananas to a high-speed blender. Turn to its lowest setting and ensure the switch is flipped to not to "High" to start with. It's too much to jump the motor from 0-100 that fast.
Once it's started blending, quickly switch to "High" speed and use the tamper to press down and stir/agitate the bananas, which should turn into soft-serve texture banana ice cream quite quickly.
If the motor seems to be struggling, stop and pause momentarily. Be sure to switch back to low speed then switch to "High" speed every time to protect the motor.
Flavors:
Adding flavor to your nice cream is easy! For every flavor besides strawberry, berry, or chocolate, simply add the recommended amounts of each ingredient to your ice cream at this time and blend until creamy and smooth, scraping down the sides as needed.
If making strawberry or berry, we recommend adding them at the beginning with the unblended bananas for best texture.
Freezing:
At this point you have soft-serve texture banana ice cream. To get more of a scoopable ice cream texture, simply spread into a Tupperware or parchment-lined loaf pan and freeze for 2-3 hours. Then scoop with an ice cream scoop! If too firm, let thaw 15-30 minutes to soften.
Storage:
Best when fresh. See freezing instructions above. Frozen banana ice cream should keep for up to 1 month if well covered, though we find it's best when used within the first week.
Top Tips
Is it good for me?

The best thing about our vegan Banana Nice Cream recipe? It's super healthy AND delicious! Because it's basically just made from bananas, it's packed with all the superfood goodness of your favorite bendy yellow berry. Bananas are a great source of fiber, antioxidants, vitamin C, potassium, copper, and other essential nutrients. Learn more about the nutritional value of bananas here.

Bananas contain 0 fat and 0 cholesterol, meaning Banana Nice Cream is a great low-fat and low-cal alternative to ice cream. It is also 100% free from artificial flavors, colors and preservatives.

Banana Nice Cream is also a great treat for kids desperate for ice cream. You get to sneak in some refined sugar-free fruity goodness and they get to enjoy all the creamy goodness of their favorite frozen treat!

Time to split…!

So there you have it. Creamy plant-powered ice cream, ready in minutes and made with just 2 natural ingredients. What more could you ask for?!

Banana Nice Cream makes a fantastic after-school snack, post-dinner sweet treat, or even a frozen base for your smoothie bowl. This dairy-free ice cream alternative is packed with nutrients and has a satisfying velvety texture that will get you peeling great…!

Be sure to tag us on instagram @goplantx to show us your brilliant Banana Nice Cream creations!
If you love this recipe…
Buy products in the recipe
Please choose options for all selected products:
Recipes You Also May Like