Buy Ingredients
Ingredients
Directions
Top Tips
Gooey Chocolate Banana Bread
Looking for the perfect vegan chocolate banana bread recipe that's super easy and yummy at the same time? You are in the right place, my friend.
This gooey banana bread recipe is completely vegan, doesn't involve many processes, and consists of ingredients that are readily available at home. It is soft and moist from the outside and has a gooey, chocolatey center. 
The recipe doesn't contain any soy or peanut content. Plus, we have given alternatives for almost all the ingredients. So, you can choose the ideal one per your allergic information and calorie needs.
You can whip up the cake for a last-minute dessert, or you can make it and store it in the refrigerator for about 3 days.
But here's the thing.
One slice may not suffice, and you will keep reaching out for more and more. 
Without much adieu, let's get to know the recipe of the yummiest homemade chocolate banana bread you will ever come across.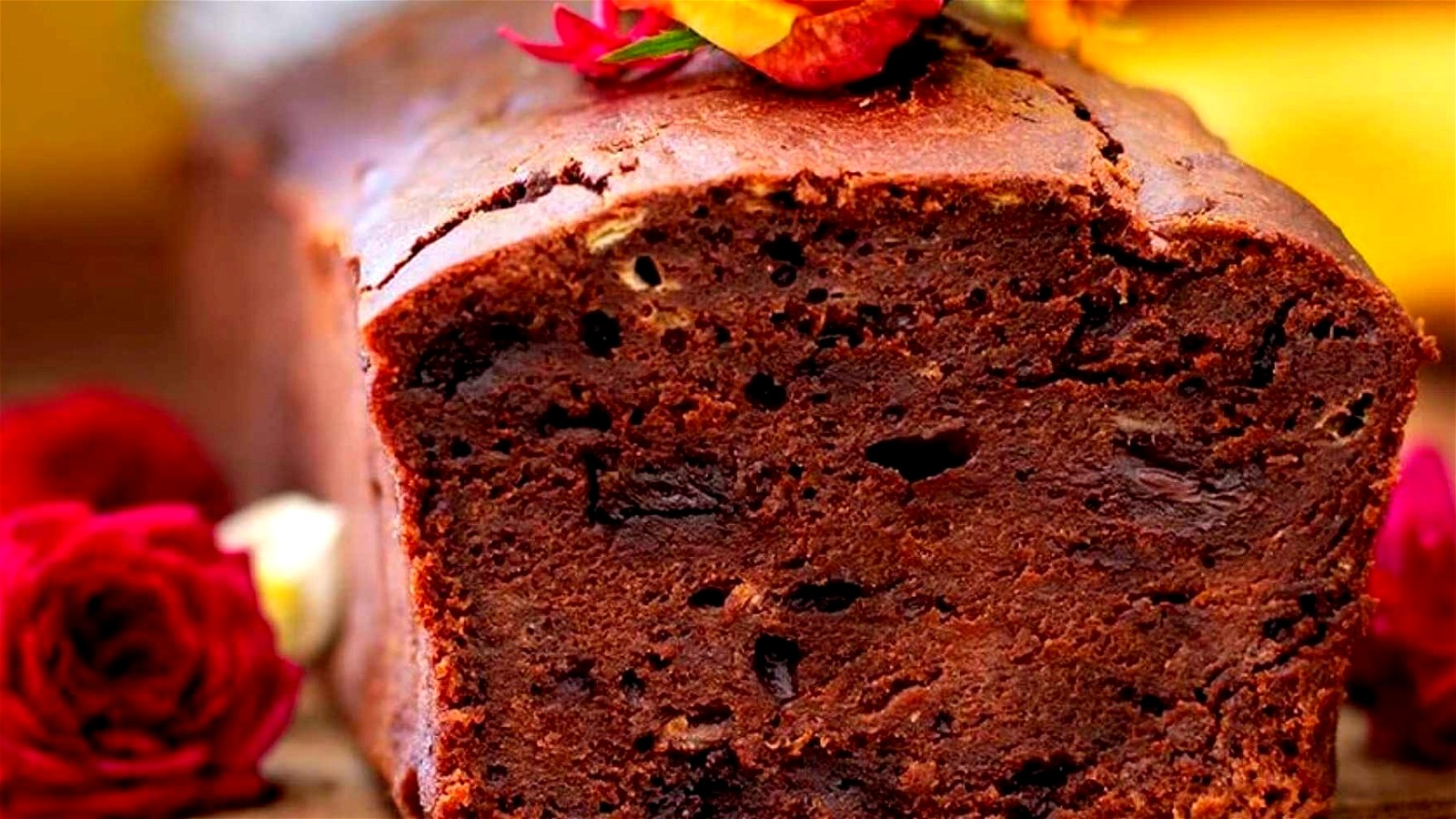 Gooey Chocolate Banana Bread
Prep Time:

5 minutes

Servings:

8
Here's what you need:
Main Ingredients
4 large ripe bananas (or 5 small ones)
1 teaspoon of vanilla extract (can be substituted with 1 teaspoon of coffee powder)
¾ cup of brown sugar (coconut sugar or any other low-cal sweetener)
½ cup of cocoa powder (sweetened or unsweetened)
1½ teaspoon of baking powder
1/2 teaspoon of baking soda
1 cup of chocolate chips (can be substituted with dark chocolate chips)
2 tablespoon of vegetable milk (cashew, almond or oat)
¼ cup of seed oil (sunflower, canola or corn)
1¼ cup of All-Purpose gluten-free flour plus extra for dusting
Directions
Get your oven heated up to 350 degrees Fahrenheit/180 degrees Celsius.
Now in a large bowl, mash the bananas with a fork. Don't use a blender; we need the consistency of the banana to be lumpy yet runny. This gives the bread a gooey texture, and you can occasionally bite into some small pieces of bananas.
To the bowl, add the rest of the ingredients, excluding the chocolate chips. Blend it all with a spatula. Again, don't use the blender or a hand mixer. The batter shouldn't be too runny and also not too thin.
Now add in almost three-quarters of the chocolate chips. Set the rest aside, as we need it for the topping.

Take out a loaf pan and coat it well with the vegetable oil. You can also use vegan butter instead.

Pop the loaf pan into the oven and leave it to bake for around 60 minutes.
Serve hot with a scoop of ice cream or leave it around for 30 minutes and consume it as it is.
Top Tips
How does the Gooey Chocolate Banana Bread taste?

This vegan chocolate banana bread tastes just like a moist chocolate cake that you get from a bakery, but even better. The banana adds to the chocolatey taste and makes the bread fluffier and decadent.

Remember to use ripe bananas to get that right amount of sweetness. If you use unripened bananas, the bread would come out with a firmer texture and might not be as sweet as you expect the bread to be.

Pro tip: If you have half-ripened bananas, toss them in the microwave for about a minute, and your bananas reach the perfect consistency just right for the bread.

It's highly recommended to add a teaspoon of coffee powder, as coffee powder elevates the richness of the chocolate, making the bread even richer in taste.

Another thing to note is that depending on the type of milk you use, the taste might vary a bit. You can use any kind of plant-based milk, but we recommend using almond milk to get that right texture. You can either use the homemade or store-bought version, but if it's homemade, thoroughly grind the almond and strain it so that the milk comes out smooth and free of any almond pulp.

Cook time:

This gooey banana bread recipe takes just about an hour to prepare. The bread can be served hot, so you need not waste more time waiting for it to cool down.

How to serve?

This vegan banana bread would make a perfect evening snack or can be doubled as a dessert for dinner. It looks and tastes like a chocolate banana cake, and therefore, you can serve it alongside a scoop of vanilla ice cream.

If you are a fan of tropical flavors, try it with some whipped coconut cream on top. You are going to love every bite of it.

Nutrition Details

The recipe can make 8 servings, and each of them is about 354 calories. The calorific content can be reduced if you substitute a part of the brown sugar with a low-cal sweetener. But remember to not completely replace it as the brown sugar adds a caramel flavor to the bread.
Buy products in the recipe
Please choose options for all selected products:
Recipes You Also May Like