Buy Ingredients
Ingredients
Directions
Top Tips
Tomato Basil Soup and Sourdough Croutons Recipe
Tomato soup is the quintessential comfort food; it's one of the first things we reach for when we're sick, and one of the most satisfying dishes when the weather starts to turn cold in fall and winter. 
So if you agree, without trying to sound dramatic, we might just be about to change your life with this tomato basil soup recipe. 
Not only is homemade tomato basil soup always better than canned, but it also fills your kitchen with delicious aromas and you can be sure that there are no nasty additives or preservatives in it. 
This soup was inspired by a childhood memory of tearing up pieces of gooey grilled cheese and submerging the pieces into a bowl of hearty tomato soup.
The addition of homemade croutons and a sprinkling of vegan parm certainly fills a void and is even better in our opinion. 
And honestly, once you try these croutons, you'll wonder how you ever lived without it.
So without further ado, here are our tips on how to make tomato basil soup starting at the very beginning with the ingredients!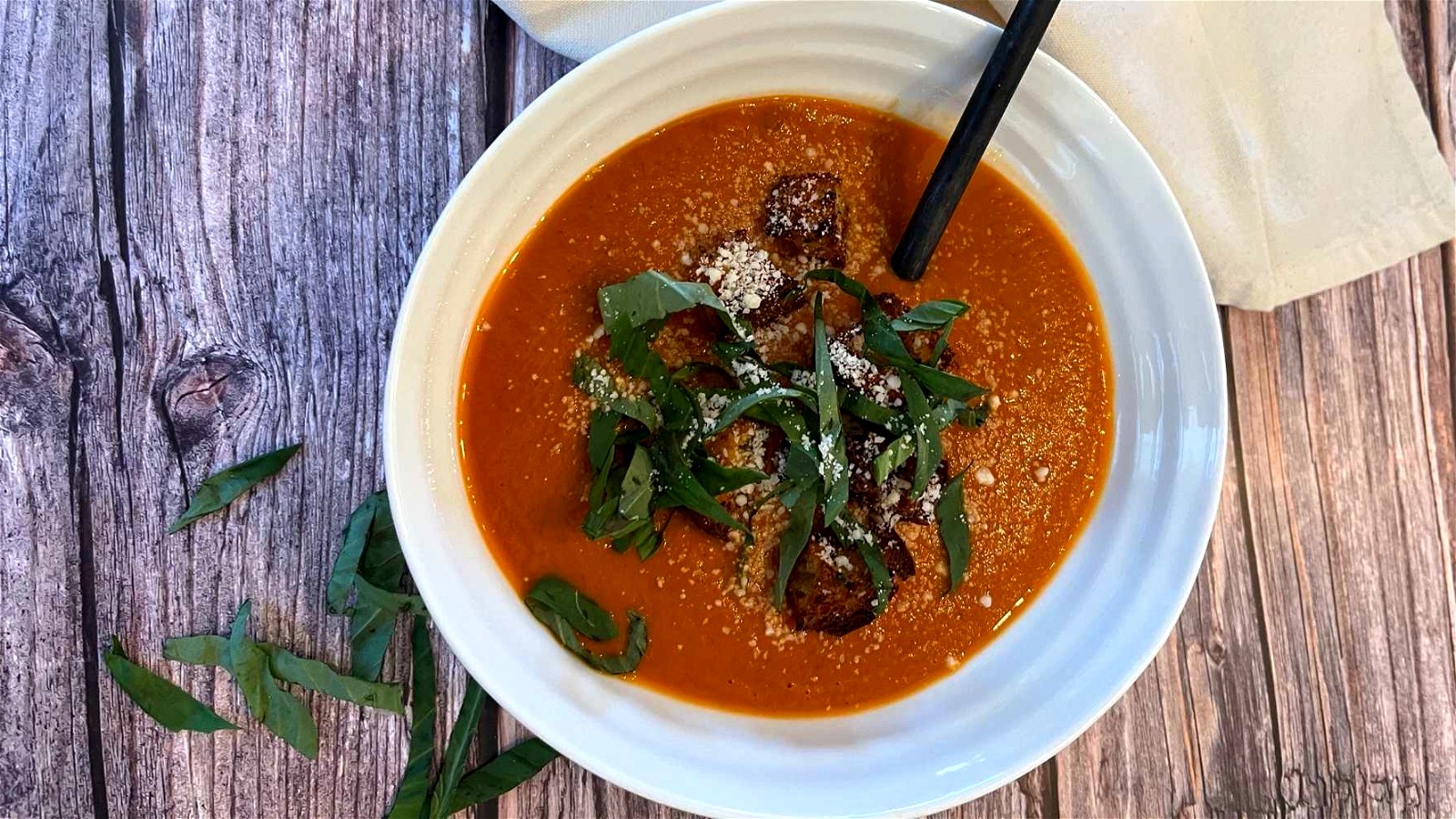 Tomato Basil Soup and Sourdough Croutons Recipe
Here's what you need:
Main Ingredients
For the Soup:
3 Tbsp avocado oil
1 medium white, yellow or red onion, chopped
⅓ cup carrots, chopped
2 cloves of garlic, minced
1 Tbsp tomato paste
2-3 Tbsp dried basil or 1 loosely packed cup of fresh basil
A pinch or 2 of crushed chili peppers (optional)
1 28 oz tin tomatoes
2-3 fresh Roma tomatoes
1 Tbsp of balsamic vinegar
3-4 cups vegetable broth
1 tsp Kosher sea salt, or pink Himalayan salt
½ tsp black pepper
For the Croutons:
2-4 large slices of one/two-day-old bread - we love sourdough!
1-3 Tbsp extra virgin olive oil
⅛ - ¼ tsp garlic powder
¼ tsp salt
¼ tsp pepper
A generous sprinkle dried parsley
Directions
Preheat the oven to 400 degrees Fahrenheit.
Line a baking sheet with parchment paper.
Heat the avocado oil in a large pot over medium heat.
Sauté the onions and carrots for 10 minutes, watching closely to make sure they don't burn.
Lower the heat to medium-low and add the garlic and cook for an additional minute.
Add the tomato paste, crushed chili peppers, and the basil, if using. Sauté for another minute.
Add the tin of tomatoes, fresh tomatoes, balsamic vinegar & vegetable broth.
Add the salt & pepper.
Bring the soup to a boil, lower the heat, and simmer for 30 minutes, until the tomatoes are very soft.
Let the soup cool for a few minutes.
Transfer in batches to a high-speed blender or food processor or use a handheld immersion blender.
Blend until creamy.
While the soup is simmering….
Cut the bread into ½ inch cubes or rip into small pieces.
In a bowl, mix the bread with EVOO, garlic powder, salt, and pepper.
In a single layer, arrange the cubes on the prepared baking sheet.
Sprinkle generously with parsley.
Place in the middle rack of the oven and bake for 15-20 minutes, tossing every 4-5 minutes.
When they are golden brown & crispy, remove from the oven.
Adjust seasonings if necessary.

Serve a heaped spoonful of the croutons into the individual bowls and sprinkle with some vegan parmesan.

Add more fresh thinly sliced basil for garnish.
Serve.
Top Tips
What tomatoes are best for homemade tomato soup?

The best tomatoes for tomato basil soup recipes are always going to be the ones that pack the most flavor! We think that Roma tomatoes are some of the best varieties of tomatoes for soup. However, you can also use some varieties of plum tomatoes as they tend to be the most flavorsome.

You should avoid the larger varieties of tomatoes (such as salad tomatoes) because they are much more watery. This is less than ideal when using them for things like purees, sauces, and soups.

We think it's always best to go fresh and organic wherever possible so that you get the maximum flavor as well as avoiding nasty pesticides.

Do I need to skin the tomatoes?

Nope! However, as with all recipes, everything is down to personal taste and preference, so there is no rule to say that you can't peel your tomatoes for this tomato basil soup recipe.

Keeping the skin on your tomatoes ensures that your homemade tomato basil soup is as nutritious as possible. This is because there are nutrients called flavanols contained within the skin.

Interestingly, unlike most fruits and vegetables, it is generally accepted that cooking tomatoes increases the availability of some of their key nutrients!

Make it Yours:

If you blend the soup it will be pretty creamy, but if you want an even creamier texture, soak ¼ cup of raw cashews for an hour or overnight, rinse well, and add to the soup while it is simmering.

When tomatoes are in season, you can dice 6 fresh Roma tomatoes, in place of the 28 oz tin.

Add a couple of teaspoons of maple syrup one at a time for added sweetness.

Goes Well With…

Of course, this tomato basil soup recipe is perfect as a main course served with some crusty bread. However, if you are feeling extra indulgent, we would recommend pairing it with a vegan grilled cheese sandwich because it is perfect for dipping in melted cheesy goodness.

This yummy homemade tomato basil soup is a delicious starter for dinner parties, and you can always half the portion sizes if you don't want to fill your guests up too much on the first course.

If you are on a health kick, this soup is a great option, especially in the winter months when you want something healthy but comforting. Instead of serving with crusty bread, you could opt for a side salad or you could replace the sourdough croutons with roasted chickpeas for an extra protein hit!

How to Store

You can keep the sourdough croutons in an airtight container for up to 10 days. The main issue you are going to find with storage is resisting the urge to eat them all at once!

You can keep the homemade tomato basil soup in an airtight container in the refrigerator for up to 5 days, or you can freeze it for up to 3 months.
To Wrap It All Up...
Well actually it was a soup, but you know what we mean. Hopefully, you've now got all of the information you need on how to make tomato basil soup! Since this soup is really easy to store, we love to make big batches of it. This is so you can enjoy a quick and easy homemade tomato basil soup whenever the mood strikes. Our tomato basil soup recipe makes 4 servings, so all you need to do is multiply the number of ingredients depending on how many portions you want to pre-make. Make this recipe and let us know what you think!
Buy products in the recipe
Please choose options for all selected products:
Recipes You Also May Like