Buy Ingredients
Ingredients
Directions
Top Tips
Bright, vibrant, vegan, and delicious! Here at PlantX, we are big fans of the buddha bowl. They're super healthy and a really great option for us vegans because of how varied and diverse they can be!
But what exactly is a buddha bowl? A buddha bowl is a bowl composed of lots of different ingredients contrasting in color, texture, flavor, and temperature - creating a colorful and delicious meal. A vegan buddha bowl is exactly the same, except all the ingredients are plant-based!
There are a few theories on where the name 'buddha bowl' comes from. It may derive from the key concept of balance in Buddhism. It may also come from the story of Buddha carrying his bowl through villages and taking different bits of food villagers would offer him. Some even say it may be called the 'buddha bowl' because it resembles the overstuffed belly of Buddha!
So we might not know why it's called the buddha bowl, but we do know a lot of great tips and tricks for making delicious vegan buddha bowls with some fabulous vegan buddha bowl recipes. Read on for more info…
Buddha Bowl Basics
Vegan buddha bowls are a nutritious, balanced concoction of plant-based ingredients. They're often artfully arranged and charged with bright colors, making them picture-perfect and a popular social media trend. 
But we think there's a lot more to buddha bowls than pretty pictures! The varied ingredients give this meal a wide range of nutrients and flavors. They are also great because you can use whatever you like, meaning there's a vegan buddha bowl out there for everyone.
Here's a list of buddha bowl do's and don'ts to help you get started: 
DO follow the

 

grain + green + protein formula.

 

This will ensure your vegan buddha bowl is perfectly balanced. For example, one buddha bowl could have a base of quinoa, spinach, and chickpeas!
DON'T use too much of one ingredient. The idea is that there is a similar amount of each ingredient making a complete and balanced meal. 
DO make some

 

vegan swaps!

 

If you're looking online, you might find that a lot of buddha bowl recipes use non-vegan ingredients like yogurt, egg, cheese and honey. Use a

 

plant-based yogurt

 

like

 

coconut

 

or

 

oat

 

yogurt, and to replace cheese you can use tofu! Honey can always be replaced by maple or agave syrup.
DON'T make everything the same temperature. It's great to have contrast in a buddha bowl, so don't be afraid to mix raw and cooked ingredients!
DO add some

 

vegan dressing or sauce!

 

A vegan buddha bowl should be tied together with a delicious

 

vegan sauce. Keep reading for some dressing ideas below. 
DON'T rush it! Making your vegan buddha bowl should be a mindful experience. Sit back, relax and enjoy the process. 
How to make your own vegan buddha bowl
We've chosen a couple of great vegan buddha bowl recipes to share with you to start you on your buddha bowl journey…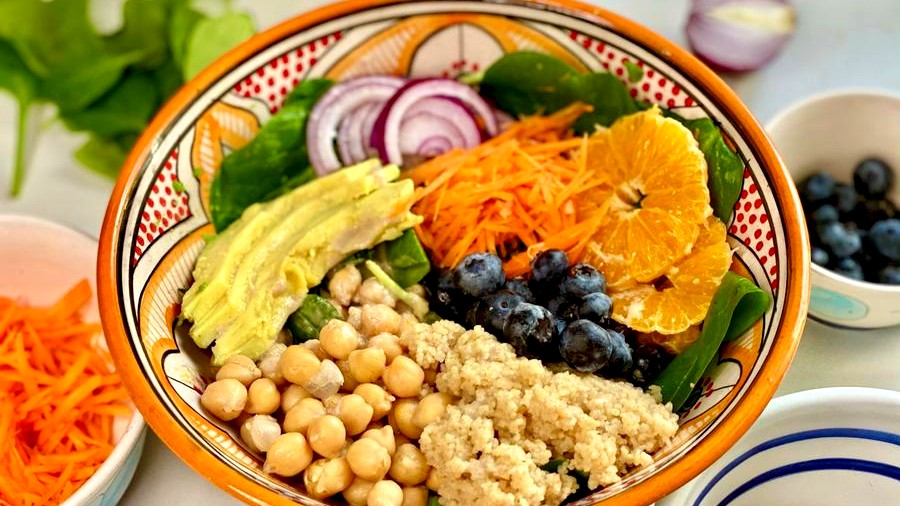 Buddha Bowl Recipe
Category:

Lunch

Prep Time:

10 minutes

Servings:

4
Here's what you need:
Main Ingredients
Good Morning Buddha Bowl
155ml almond milk
55g oats
A handful of diced mango
1 peach, sliced
A handful of blueberries
2 tablespoons of coconut yogurt
2 tablespoons of toasted, crushed hazelnuts
Red Onion, Chickpea, and Sweet Potato Buddha Bowl
Olive oil
2 red onions, sliced
200g tinned chickpeas, drained and rinsed
1 sweet potato, diced
1 tablespoon paprika
Sea salt and black pepper
1 bunch of small spinach leaves
A small handful of parsley, finely chopped
200g cooked giant couscous, cooled
Dijon Dressing (see below)
2 tablespoons of toasted pine nuts
Directions
Good Morning Buddha Bowl
The night before you plan to eat your Good Morning Buddha Bowl, mix the almond milk and oats together in a bowl, cover and leave in the fridge overnight.
Crush and toast your hazelnuts. Put them aside overnight.
The next morning, prepare your fruit. Add it to your bowl of oats, alongside the yogurt and toasted hazelnuts. Bon appetit!
Red Onion, Chickpea, and Sweet Potato Buddha Bowl
Preheat your oven to 375 F.
Put your chickpeas and sweet potato onto a baking tray. Drizzle with olive oil, and then season with the paprika, sea salt, and black pepper. Bake for 40 minutes, turning occasionally.
While the chickpeas and sweet potato are cooking, toast your pine nuts.
Mix the parsley with the giant couscous in a bowl and dress with 2 tablespoons of the dressing. Add the spinach leaves and red onion.
Once the chickpeas and sweet potato have finished cooking, add them to the bowl. Pour on some more dressing and sprinkle on the toasted pine nuts. Voila!
Top Tips
Buddha bowl vegan sauces and dressing

A vegan buddha bowl wouldn't be complete without a vegan dressing! You can make your own simple dressing by using one of our recipes below, or you can choose from one of the great products on the PlantX website!

Balsamic Dressing:

Mix 2 tablespoons of balsamic vinegar with some extra-virgin olive oil, a squeeze of lemon, and a honey substitute for a sweet and tangy vegan dressing.

Dijon Dressing:

Mix 1 tablespoon of Dijon mustard, 3 tablespoons of white wine vinegar, and 2 tablespoons of extra-virgin olive oil into a small bowl or jug. Add some sea salt, black pepper, and a pinch of sugar.
To Wrap It All Up...
Eating healthy, delicious, vegan food can be fun and creative with vegan buddha bowls! We love how everyone can enjoy a buddha bowl due to its diversity, simplicity, and damn good taste. With thousands and thousands of different combinations, let your culinary imagination go wild and create the perfect buddha bowl for you using our tips and tricks!
If you love this recipe…
Buy products in the recipe
Please choose options for all selected products:
Recipes You Also May Like