Buy Ingredients
Ingredients
Directions
Top Tips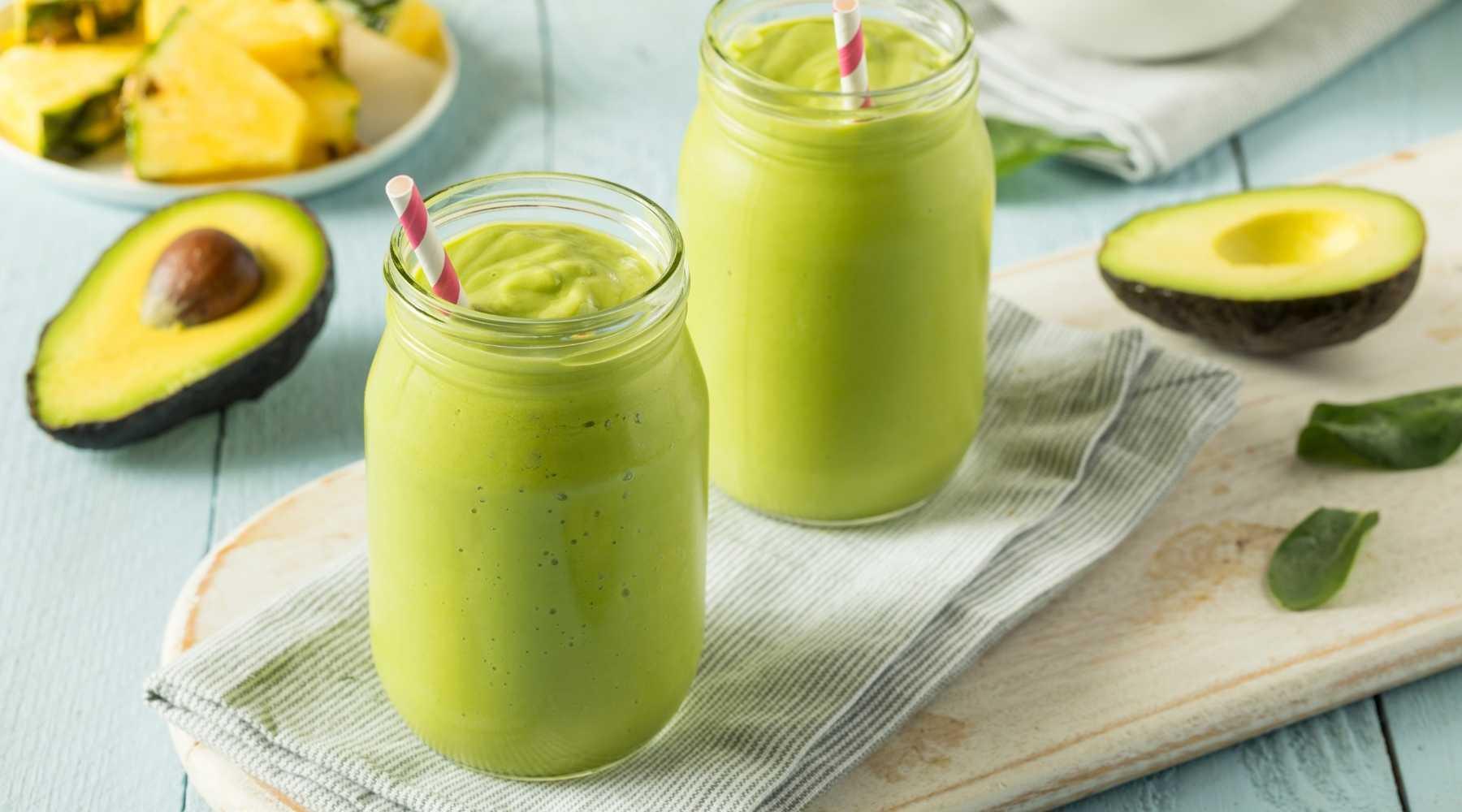 This thick avocado and fresh fruit smoothie has a deliciously smooth, ice cream-like texture and sweet taste but is made with only plant-based ingredients! It takes only a few minutes to make and is packed with fiber and nutrients that will keep you feeling fresh and energized. What's not to like?
Introduction
This recipe was inspired by my time in Ecuador where I discovered the sheer bliss of avocado ice cream. I initially tried avocado ice cream for the novelty factor. However, I was pleasantly surprised by how well the subtly savory taste and creamy texture of the avocado served as a creamy vegan ice cream base. Like in that recipe, in this smoothie I use lime to add a zingy sweet but sour edge that complements the subtle creamy texture.
There are a lot of great vegan ice creams around now, but let's be honest, sometimes vegan ice cream lacks the creaminess of dairy ice cream. If, like me, you sometimes get a craving for thick and creamy ice-cream milkshakes, this avocado smoothie is the answer!
I hear your skepticism, how can avocado satisfy those cravings for a sweet creamy ice cream milkshake? But you will be pleasantly surprised!
This smoothie uses avocado as a creamy base. Frozen fruit is used as a great replacement for sugar and oat milk repaces the dairy.
If you're craving something even more ice cream-like, you can spoon the mixture into ice lolly containers and pop them in the freezer!
Key Information
Prep time: 5 minutes

Cook time: 1 minute

Total time: 6 minutes

Serves: 2
Variations 
The base of this smoothie is avocado, so it is easy to give it a more savory flavor. Simply add a handful of fresh, washed baby leaf spinach. This will also give the smoothie a beautiful bright green hue and extra iron!
To give this smoothie an extra thick ice cream-like texture, chop up the banana and the avocado and then put both in the freezer for 3 hours in advance of making the smoothie. This way, they will be soft enough to blend but will create a thick, creamy, sorbet-like texture.
For a lighter, less creamy taste and added natural sweetness, you can use coconut milk instead of oat milk.
Avocado Smoothie Recipe
Prep Time:

5 minutes

Servings:

2
Here's what you need:
Main Ingredients
1/2 cup cubed frozen mango
2 small ripe avocados (or 1 large ripe avocado)
1 banana (frozen if you want your smoothies extra thick)
3/4 cup oat milk
1 fresh lime (½ for juicing, ½ for slicing)
Pinch of salt
4 ice cubes
Directions
Peel and slice the banana and avocado(s). This smoothie is a great way to make use of bananas that have gone a bit brown and squidgy. Although brown bananas don't look as nice and lose their firm texture, they become extra sweet as they go brown. Using brown bananas will therefore bring added natural sweetness to your smoothie, without the need for processed sugar!

If your avocados are properly ripe, you should be able to scoop the flesh out easily with a spoon.

Placed the chopped banana and avocado into your blender. Add the frozen mango, ice, and oat milk.

Add a pinch of salt and squeeze half the lime into the mixture. This will give a sweet fruity sharp edge to your creamy smoothie. If you have a sweet tooth, you can add a teaspoon of agave syrup or sugar of your choice to bring out the sweetness of the mango and banana. If you are adding any sugar or other kind of sweetener to your smoothie, this is the time to add it.

Blend it all together until you have a smooth, thick, creamy mixture.

Scoop the thick mixture into a glass, you should get 2 servings from this recipe. Cut two circular slices from the other half of the lime you have leftover to decorate the glass. Cut a slit into the center of each of these slices then slot them onto the edge of the glass.

Because this is a seriously thick and creamy smoothie, it is best eaten with a spoon. However, if you want to make a version of this smoothie that has a more runny and drinkable texture, you can add 2 additional ice cubes and an additional ½ cup of oat milk.
Top Tips
The best way to slice an avocado can be a surprisingly contentious topic, everyone seems to have an opinion! However, if you have not chosen your camp yet and are still searching for the best way to tackle the avocado, I suggest taking a sharp knife and slicing the avocado in half longways, then twisting it so it comes apart.

Holding the half with the seed in it in one hand, you can then hit the knife's blade into the seed. You want the blade to go deep enough into the seed that you should be able to give the knife a gentle twist and the stone will come away from the avocado flesh easily. You can then scoop out the soft creamy avocado flesh with a spoon.

Be warned, not all blenders can handle ice! Especially if you are using a small handheld blender. Therefore, rather than risking your blender, I recommend that you crush the ice first.

To do this, place the ice, wrapped in a clean tea towel, on your chopping board. Then, take a wooden rolling pin and smash the ice up into small pieces. You will need to dry the tea towel afterwards, but it is better to use a tea towel than a plastic bag, because not only is it more sustainable, but will also avoid getting bits of plastic in your ice. You can then add the crushed ice to your blender bowl and blend it into the smoothie.
To Wrap It All Up...
Once you have made this smoothie, it is bound to become a well-loved favorite! Not only will it fulfill all your cravings for an ice-cream milkshake, but it will do so using only low-fat, plant-based ingredients. This gluten-free, vegan smoothie has a subtly sweet taste and rich ice-creamy texture that is sure to be loved by all ages.
With avocado, mango, and banana, this smoothie can contain 3 of your 5 a day in one delicious treat. As well containing lots of vitamins, it is full of protein due to the high protein content of avocado, making it a great choice for whipping up a healthy and fresh breakfast. This also makes it a great post-workout smoothie to replace calories lost during exercise and increase protein levels.
It is a deliciously refreshing yet treaty breakfast smoothie packed with protein and vitamins for the day ahead. It also makes a delicious healthy vegan dessert and can bring a cool freshness to hot summer evenings.
Frequently Asked Questions
Unfortunately, avocados have a relatively high environmental impact. This is due to the large amounts of water needed to grow them, and the fossil fuels used to transport them to the supermarkets. However, avocados' environmental footprint is still far lower than the footprint of any animal products. Replacing dairy products or meat with avocado is therefore still far better for the environment.
Because avocados have a subtly savory flavor, avocado smoothies can be sweet or savory depending on what else you put in the smoothie. If you combine avocado with spinach and other savory veg, it can make a creamy but savory smoothie, whereas combining it with sweet fruit and the natural sugar in the fruit will turn your smoothie subtly sweet.
To make an iced smoothie, you can either freeze the ingredients before blending them or you can add ice to the smoothie. If it's an especially hot day, you can even do both! If your blender is not very strong then it may be better to freeze the fruit as it will not be as hard as the ice when frozen and so will be easier to blend.
If you love this recipe…
Check out our other smoothie recipes below:
Did you make the recipe? We want to see!
Tag @GoPlantX on Instagram.
Buy products in the recipe
Please choose options for all selected products:
Recipes You Also May Like