Buy Ingredients
Ingredients
Directions
Top Tips
Ooey Gooey Cinnamon Rolls Recipe
Sugary. Spiced. Delicious. Is there anything better than a cinnamon roll? We don't think so. With the perfect combination of flaky buttery pastry and comforting cinnamon spice, there is no better sweet treat to get you up in the morning. 
The only problem? It can be hard to find a good vegan recipe… until now! 
Here at PlantX, we stand firmly by the mantra that everyone deserves a delicious, rich and luxurious cinnamon roll, which is why we've come up with the ultimate Ooey Gooey Cinnamon Roll recipe that's 100% vegan and 100% mouthwatering! 
You can thank us later! For now, it's time to get making your own ooey gooey cinnamon rolls - here is the only recipe you will ever need…
Let's talk taste
So, what do they taste like? Well, imagine this… 
Warm buttery vegan pastry, firm and filling but melt in the mouth with a soft sweet flavor. This light pastry provides the perfect apparatus for the piece-da-la-resistance: the cinnamon filling. A classic mix of butter, sugar, and cinnamon, there's no need to mess around with these simple flavors, and, trust us, this spiced filling is guaranteed to be a crowd-pleaser. The cherry on top of the cake? Well, there's no actual cherry this time, instead, a sweet sugary white frosting tops these rolls, adding the final oomph to this classic pastry. 
Whether it's breakfast, lunch, or dinner, once you try one of these rolls, you'll be looking for any excuse to eat another! 
Recipe Details
This ooey gooey cinnamon roll recipe couldn't be easier to whip up in the morning, and, trust us, it's well worth the effort. They should be ready within 50 minutes, with 20 minutes of prep time, and 25-30 minutes in the oven. And, this recipe will make a whopping 10 servings each time. That's ideal for feeding the whole family at brunch or munching yourself over through the week. 
These rolls can be served on their own straight from the over, or, if you're eating them as a desert, why not pimp them out with some vegan ice cream to really maximize those flavors. You will be in for a treat!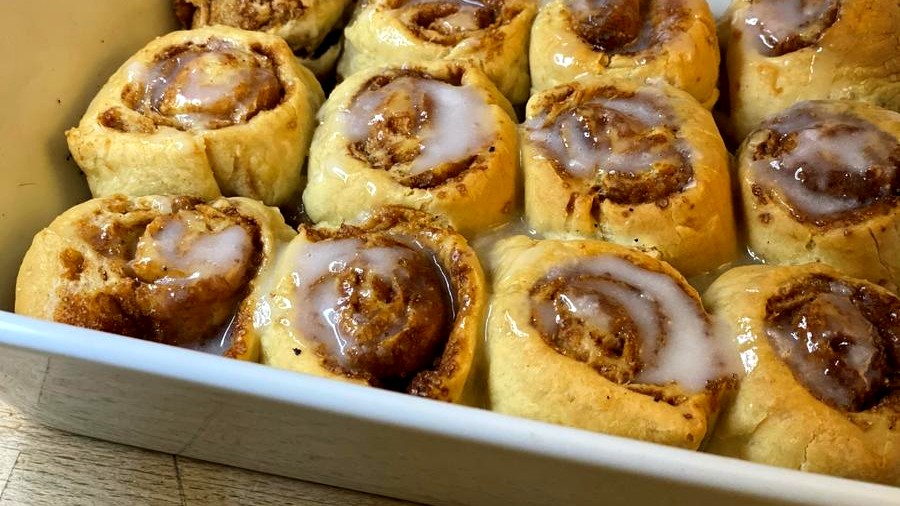 Ooey Gooey Cinnamon Rolls Recipe
Category:

Desserts

Prep Time:

1 minute

Servings:

10
Here's what you need:
Main Ingredients
3 tbsp Vegan Butter (Earth Balance)
1 packet (2 1/4 tsps.) of Instant Yeast or Rapid-rise Yeast
1 cup of Blue Diamond Unsweetened Almond Milk (or your preferred plant-based milk.)
1 tbsp Organic Cane Sugar
1/4 tsp of Redmond Ancient Fine Sea Salt
3 cups of Unbleached All-purpose Flour, or a gluten-free flour like Coconut Flour
Filling Ingredients
3 tbsp melted Vegan Butter
1/4 cup of Organic Cane Sugar
1/2 to 1 tbsp of Frontier Herb Ground Cinnamon
Icing Ingredients
1 cup of Organic Powdered Sugar
1 to 2 tbsp of Plant-based Milk
Directions
To make your dough, first melt the butter and almond milk together in a large saucepan or in a microwaveable bowl, heating in 30 second intervals. Allow the mixture to cool to 110 degrees for the best temperature for your yeast.
Transfer your mixture into a large mixing bowl and sprinkle in your yeast, allowing it to activate for 10 minutes. Next, add in 1 tbsp of organic cane sugar and 1/4 tsp of salt and then stir.
Add in your flour, 1/2 cup at a time, to your mixing bowl and stirring as you go along. Your dough will be very sticky. Once it becomes too thick to stir, transfer your dough to a lightly floured surface a knead for around a minute or so until a loose ball is formed. Be careful, you do not want to overwork your dough as this can lead to a tough and chewy cinnamon roll!
Rinse out your mixing bowl and coat it with a little bit of olive or avocado oil before adding your ball of dough back in. Cover the bowl with plastic wrap and set it in a warm area and allow to rise for about an hour, or until the dough has doubled in size.
On a lightly floured surface, roll out your dough into a thin rectangle with about 1/4 inch of thickness. Brush your melted vegan butter onto the dough and top with sugar and your desired amount of cinnamon.
Starting from one end, begin rolling your dough into a log shape to create your spiral rolls. Take a serrated knife or unflavored string of floss and cut your log into 1.5 to 2 inch sections, placing your rolls into a buttered 8x8 inch square or circular pan. You should have about 10 rolls total.

Lightly brush your rolls with melted vegan butter and cover with plastic wrap, allowing the dough to rise a second time while your oven preheats to 350 degrees F (176 C.) Once your oven is hot, bake your rolls for 25-30 minutes, or until golden brown.

Optional Topping:

To create your frosting, simply mix 1 cup of organic powdered sugar and 1 to 2 tbsp of unsweetened almond milk or your favorite plant-based milk.

Once your cinnamon rolls have cooled, drizzle your frosting over them with a spoon and enjoy!
Top Tips
Nutrition Details

Now, as you may be able to tell from the recipe, these ooey gooey cinnamon rolls are not designed for a health kick. With a high sugar content, these pastry treats shouldn't be consumed in excess. However, the good news is that with unsweetened almond milk (high in vitamin E) and cinnamon (high in antioxidants), these cinnamon rolls do have unique benefits for your body!
If you love this recipe…
Buy products in the recipe
Please choose options for all selected products:
Recipes You Also May Like