Buy Ingredients
Ingredients
Directions
Top Tips
Earth-Shattering Tahini Chocolate Chip Walnut Cookies Recipe
Every now and then a recipe comes along that changes the game. This is one of those times. These vegan cookies are NEXT LEVEL! They are the perfect blend of crispy outside with gooey puddles of chocolate in the center. We have to warn you though, they will not last long!
Introduction
Although I can't share the cookies I made with you (they got eaten very quickly) I can share the recipe with you - would almost be criminal not to. They are so easy and quick to make that in my house it's now become a weekly ritual to bake these beauties.
These cookies are a great healthy snack, and they also have so many variations it allows you to get creative as well. All my vegan and non-vegan friends love them. When I tell them what the cookies are made of, one question I always get asked though is…
What is Tahini?
Tahini is made from toasted ground sesame seeds. If you are a fan of hummus then you will love it. It gives any recipe a smoky nuttiness that is divine.
It's generally found in Mediterranean cuisine and is often used in things like sauces, dips and dressings. It's a bit like nut butter, and its creamy consistency makes it perfect for baking. And in case you were wondering, it is gluten-free!
And on that note, roll up your sleeves, put on your apron, and let's get into it!
Key Information
Prep Time: 15 min   Chill Time: 30 min   Minimum Cook Time: 10-12 min   Total Time: 1 hour 
Serves: 14-16 cookies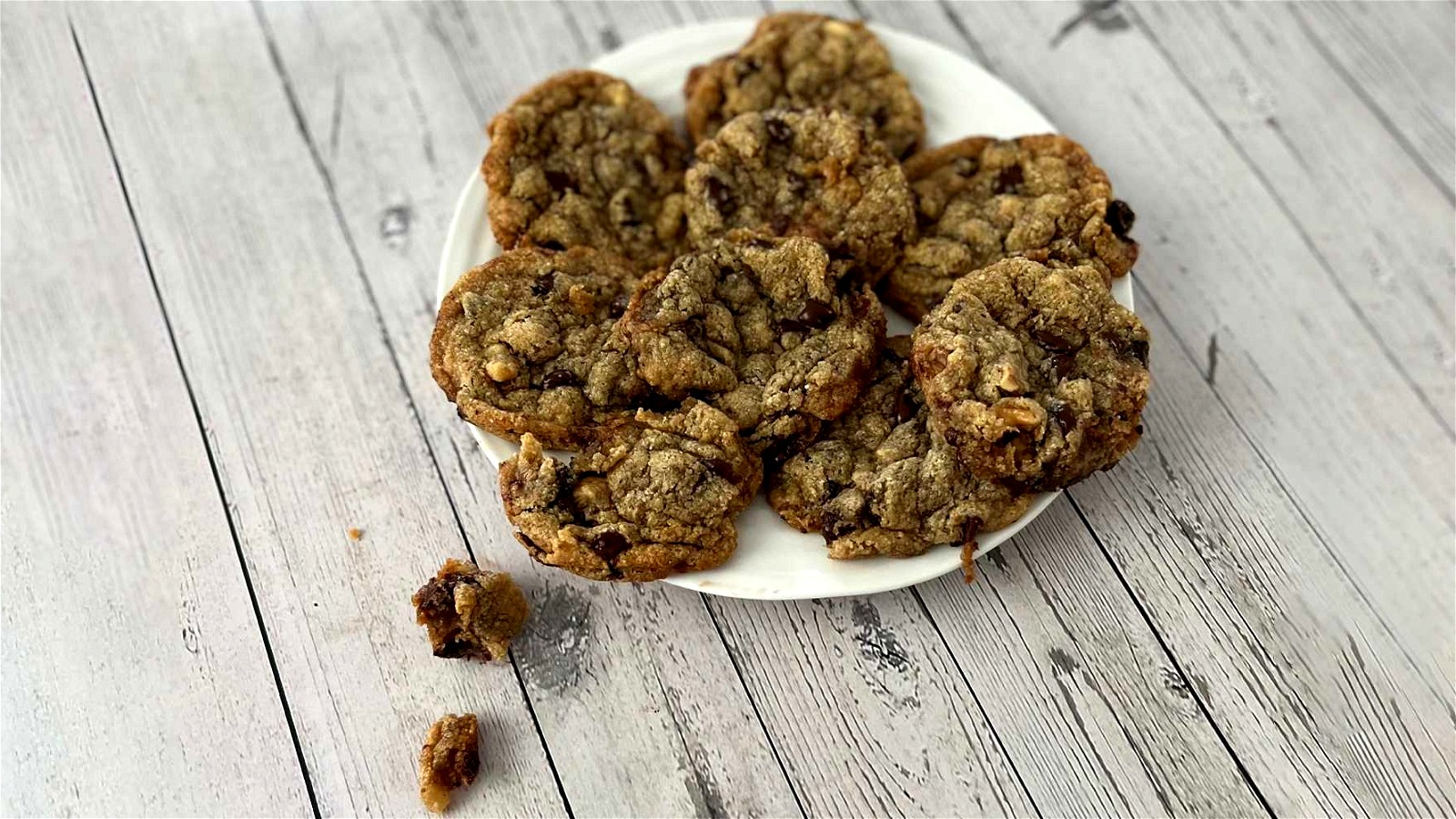 Earth-Shattering Tahini Chocolate Chip Walnut Cookies Recipe
Prep Time:

45 minutes

Servings:

14-16
Here's what you need:
Main Ingredients
1 cup almond flour
1 cup runny tahini
½ cup maple syrup
1 cup chocolate chips
1 flax egg (prepare approx. 15 mins before you are ready to add it to the batter. See recipe below)
1 tsp vanilla
1 tsp baking soda
½ cup walnuts
pinch of sea salt
½-1 tsp cinnamon (optional)
1 tbsp ground flax meal
3 tbsp water
Directions
The first step is to make Flax Egg. Whisk the flax meal and the water together and let it sit for 10-15 minutes until it has the consistency of a raw egg. Hot water speeds up the process. The texture should be gelatinous similar to an egg when it is ready.
Open your tahini jar and check if it's separated with an oily layer on top. Don't worry, this is completely natural - the oil comes from the grounded sesame seeds. Just make sure you mix it well before continuing with the rest of the recipe.
To make the dough, start mixing the almond flour, tahini & chocolate chips together in a medium bowl. The dough should be thick. If it's not, add more almond flour until you have the right consistency. You don't want to get too much air into the dough, so mix it well, but don't overdo it.
Place the bowl in the fridge for a minimum of 30 minutes.
Preheat the oven to 350 °F while the dough is chilling. Make sure you remove the baking tray (you want the tray to be cool when you lay out the cookie dough.)
When the dough is chilled, mix in the flax egg, vanilla, baking powder, walnut salt, and cinnamon (if using).
Use a spoon, a cookie scoop or an ice-cream scoop (heck, use your hands if you have to) and form approximately 16 cookies.
Bake for 10-12 mins on a lined cookie sheet. The trick here is to not overbake them. It's a good idea to check on them about 8 minutes in, just to be safe. You also want to remove the cookies while they are still slightly underbaked. This is because as they set and cool down they will continue to cook.
Allow the cookies to cool slightly before you start eating them! The perfect baked cookies should be crispy on the outside and a little gooey on the inside!
Enjoy the best cookie of your life.
Top Tips
Instead of chocolate chips, try using chocolate chunks. Using a good quality vegan dark chocolate is one of the little secrets to making this recipe even more amazing. Chill the cookie dough. I know this is in the recipe, but we need to say it again because it's such a vital step! Chilling the dough in the fridge will make your cookies retain their shape and remain solid. Less waste, less cleanup, and overall a better cookie. Don't over mix the cookie dough. If there is too much air in the dough the cookies won't retain their classic round shape.

Variations

# You can switch the walnuts with pecans, almonds or any other nuts or dried fruit you desire.

# For fruity vibes, replace the chocolate chips with raisins or dates. If using dates, remember to remove any pits - unless you enjoy going to the dentist. A little tip is to soak the dates in warm water for a few minutes. Then just drain, chop them up and add a little tablespoon of flour before you add them to your dough mixture.

# Eliminate or add more of the vanilla and/or cinnamon - follow your gut!

# Use date syrup in place of maple syrup, or try a mix of both!

# Add in a scoop of vegan unflavored protein powder. Then BOOM! You have an amazing post-workout snack. Get them gains!

# Another great idea is to dip them in a glass of cold almond or cashew milk for a little mid-afternoon snack.
To Wrap It All Up...
So there you have it. One of the ultimate vegan cookie recipes that the whole family will adore. The walnut crunch, the gooey chocolate center, the smoky tahini flavor. It's a perfect blend!
In my household, I've actually started making 2 batches (which is roughly 30 cookies.) What I do is double all the ingredients on the list, make the dough, and only cook half the cookies. The other half I keep in dough and freeze. Then we can have freshly baked cookies at any time!
I hope you've enjoyed this recipe. Do try and make them! And don't worry about leftover ingredients - tahini is a wonderful staple in your cupboard. You can dip vegetables in it, spread it on toast, use it for salad dressings - it's so versatile it should be in every vegan's pantry.
The last thing I want to share is a quick story about my little one. What inspired me to finally share this recipe was how when we baked these cookies together, we did burn them slightly. The thing was, they still tasted better than anything you can buy from the store! I guess that's the way the cookie crumbles.
Frequently Asked Questions
This is one of the best things about this recipe. Firstly, you can freeze the dough. After you roll the dough into balls, put them on parchment paper and place them in the freezer. Then after 30 minutes you can remove them and add them to a freezer-safe bag. They will keep for 12 weeks so when you are ready to bake you can remove however many you need, and hey presto! The other option is to freeze the baked cookies. Once they are completely cool just put them in a freezer-safe bag and they will last for 8 weeks. All you need to do is thaw them out and they will be ready to eat. Of course, the most common thing to do for this recipe is to store the baked cookies in an air-tight container in room temperature, because let's be honest, you're going to eat them all quickly!
Either your oven temperature was too high, or you put them on a low or high rack. Try placing them on the middle one! Also, make sure that you place them on a wire rack when you remove them from the oven. This allows the air to circulate. Also if the bottom is burnt, a good idea would be to use parchment paper next time.
We don't recommend it (the baking soda might play games with your tummy) but who can resist having a little taste? It's just so finger-lickin' good.
If you love this recipe…
There are so many other recipes that are great at PlantX. Here are a few I can't recommend enough…
Sara's Nanaimo Bars - Dates, walnuts, maple syrup. If you've made this recipe you're like halfway there already! And these bars are delicious.
Vegan Brownies - Come on, who doesn't like brownies? And since you now know how to make a flax egg, it'll be easy peasy!
Hot Chocolate Bomb - Okay, as you can probably tell I've got a sweet tooth. And I LOVE chocolate. And if you are anything at all like me, then you need to try to make this recipe. I promise you, I saved the best until last!
Did you make the recipe? We want to see!
Tag @GoPlantX on Instagram.
Buy products in the recipe
Please choose options for all selected products:
Recipes You Also May Like