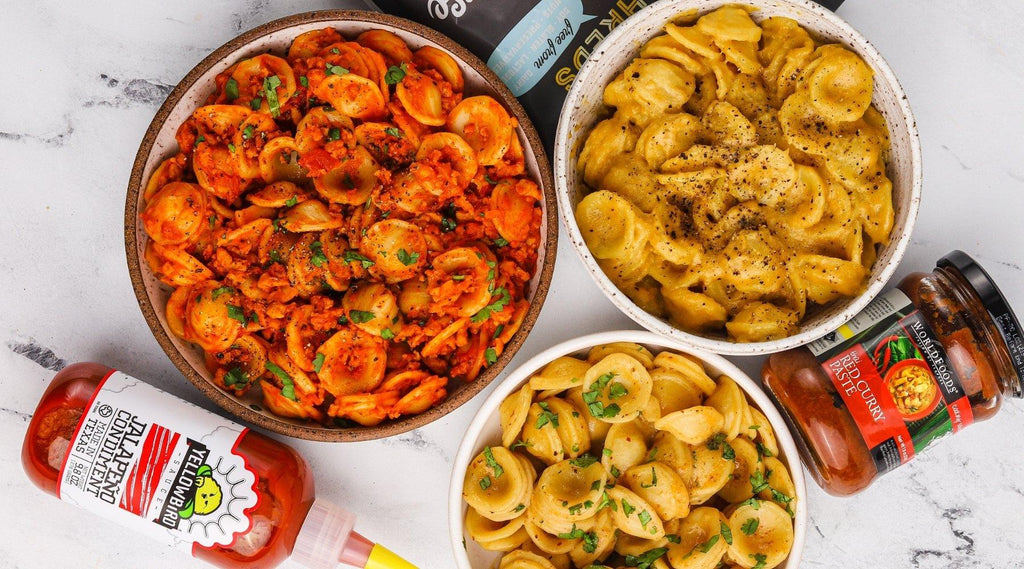 The nights are drawing in, the mornings are filled with a frosty chill and winter has definitely arrived! Here at PlantX, we think the key to keeping happy and healthy in the colder months is to eat warming winter foods. 
Eating seasonally not only celebrates local produce by following the rhythm of the harvest calendar but also means you can enjoy foods in tune with your body's seasonal needs. With the cooler temperatures, fewer daylight hours and more time spent indoors, studies show that we naturally crave energy-dense foods, with more starch and calories. 
But that doesn't mean warming vegan food recipes have to be unhealthy! Quite the opposite, in fact! It's no coincidence that delicate salad ingredients are at their prime in summer, while hearty root veg like squash, beets and carrots are the colorful winter jewels of the veg patch. 
So nourish your body and your soul this season, and get to know the wonders of nature's winter larder. And don't forget to treat yourself to something sweet and satisfying for dessert! 
Here are 10 of our favourite warming vegan recipes to get you feeling cosy! 
1. Hearty Minestrone Soup
There's nothing like a comforting bowl of soup to warm your belly on a cold winter's day. Chunky, substantial and ultra-sustaining, this Hearty Minestrone Soup is a complete meal in a bowl. 
Made with 7 different veggies and a delightful double-carb duo of pinto beans and pasta, this classic Italian soup is flavoured with warming spices, fresh green herbs and plenty of garlic and ginger. If you feel a cold catching up with you, this nourishing soup is the perfect way to ward it off! 
2. Winter Potato Soup 
We couldn't resist including another satisfying soup in our warming vegan recipe round-up. Quick and easy to make, this filling Winter Potato Soup is thick, creamy and packed with delicious veggie goodness. 
3. Plant-based Lentil & Sweet Potato Shepherd's Pie
Warming, comforting and packed with essential nutrients, this Plant-Based Shepherd's Pie is made with a lentil, spinach & butternut squash dal filling and topped with rich and creamy mashed sweet potatoes. It's just as filling and a whole lot more nourishing than the original, as well as being 100% cruelty-free! 
PlantX Top Tip: Assemble this ahead of time and go out for a crisp winter's day hike. When you get home with frosty fingers and toes, simply pop it in the oven and settle down for a cosy evening in. Sorted! 
4. General Tso's Tofu
Long nights indoors can have us reaching for the takeout menu. But all that fat, sugar, MSG and artificial flavouring that we're craving might actually end up making us feel worse afterwards. Here comes more vegan recipes to the rescue!
Our healthy and cruelty-free take on a classic takeout dish is the ideal alternative! General Tso's Tofu is covered in a sweet sticky umami glaze, with plenty of immunity-boosting garlic and ginger. Serve it with nutty brown rice and broccoli and you've got yourself a nourishing winter warmer that will keep your inner fire aglow!
5. Baked Plant-Based Mac n Cheese
Creamy, comforting and oh-so-cheesy, a bottomless bowl of mac n cheese just might be the ultimate cold weather comfort food. Luckily for you, our vegan recipe delivers that delicious dose of childhood nostalgia, while being a whole lot healthier.
Made with coconut milk and nutrient-dense chickpea pasta, our Baked Mac n Cheese is packed with healthy fats, protein and gut-boosting fibre. Baking it allows the top to become golden brown and crisped to perfection. *Chef's kiss*
6. Garlic Cauliflower Mashed Potatoes 
Sometimes the carbs can be a bit much in the winter, with potatoes, rice or pasta popping up at every corner. Introducing: our Garlic Cauliflower Mashed 'Potatoes'. Even the most die-hard of potato fans will love this low-carb potato-free mash that's still warming, creamy and comforting as ever! 
Made with cauliflower, almond milk, vegan butter and plenty of garlic, this creamy side dish is perfect for serving with stews, veggie sausages or seitan roast beef. 
7. High Protein Blackberry Crumble
Blackberry season may be coming to an end, but we're positive you've got a stash in the freezer from earlier Fall foraging expeditions. Our high protein take on a comforting British Blackberry Crumble makes the perfect warming dessert, afternoon snack, or decadent breakfast. Serve it with dairy-free yoghurt, ice cream, cream or even vegan custard for the true crumble experience! Yet another vegan food recipe to add to your list! 
Not only will this tasty dessert warm your belly on a cold winter's day, but it will also deliver a delicious dose of essential amino acids to keep you feeling strong.
PlantX Top Tip: If you're short on blackberries, you can sub in any other fruits you fancy. This recipe would work with apples, pears, cherries, blueberries, plums or a combination of whatever you've got in the fruit bowl or freezer! 
8. Chocolate Pie with Cherry Filling
Winter is a time for indulgence. Treat yourself and your friends to our delicious Chocolate Cherry Pie at your next festive dinner party. Vegan dessert recipes can sometimes be complicated, with an endless list of ingredients, but we can assure you that this one is as easy as… pie! 
PlantX Top Tip: Time to get creative with your cookie cutters! Rather than settling for conventional pie topping, choose your favourite shapes and make a stunning festive crust with stars, bells, snowflakes and more! 
9. Ooey Gooey Cinnamon Rolls
A strong contender for our favourite winter spice, what could be more warming than sweet, aromatic and spicy cinnamon? These sticky, gooey Vegan Cinnamon Rolls (gluten-free variation available) make the perfect treat for your mid-morning winter coffee break. 
10. Pumpkin Chai Latte
Here at PlantX, we remain firmly in the camp that there's no reason to stop serving Pumpkin Spice Lattes after Hallowe'en. Sadly, most cafes seem to disagree with us, so we decided to make our own - and now you can too! This vegan hot drink recipe for Pumpkin Chai Latte is full of warming spices, creamy oat milk and pumpkin puree for a true winter warmer. We think it's perfect for cosy afternoons on the sofa with your favourite festive movie. 
It can be easy to think that vegan recipes are all crunchy raw salads, light veggie mains and fresh, fruity desserts. While this kind of low-carb healthy fare is perfect for warmer seasons, we can all agree that winter calls for something more wholesome and hearty! 
We hope you feel inspired to cook up some of our favourite warming vegan recipes! From soups to cinnamon rolls, and curry to crumble, there's something to tempt every plant-based pal. We guarantee they'll have you feeling nourished, sustained and satisfied with every restoring bite. 
So throw an apron over your sweater and slippers, turn up the festive tunes, and get cooking!