Buy Ingredients
Ingredients
Directions
Top Tips
Garlic Cauliflower Mashed Potatoes Recipe
Looking for a healthier mashed potato this holiday season? Try out our cauliflower mashed potatoes recipe for the best mashed potatoes you won't believe don't have any potato!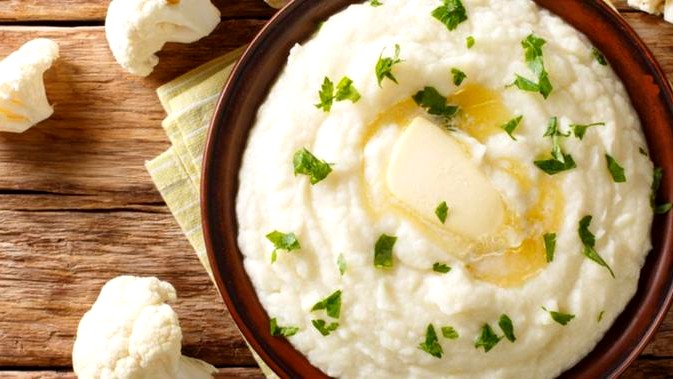 Garlic Cauliflower Mashed Potatoes Recipe
Category:

Dinners

Prep Time:

30 minutes

Servings:

6
Here's what you need:
Main Ingredients
2 heads of cauliflower
4 tbsp vegan butter or olive oil
3-4 cloves of garlic, minced
1/2 tsp of salt, or to taste
1 pinch of black pepper, or to taste
1/4 to 1/2 cup of Blue Diamond Original Almond Milk Unsweetened
Fresh parsley or chives
Directions
Cut your cauliflower into florets and steam in a large pot until tender, which will be about 15-20 minutes. Remove from head and set aside uncovered to cool.

In a small skillet, saute your garlic in vegan butter over medium-low heat for 2 to 3 minutes or until your garlic has slightly browned. Turn off heat and set aside.

Transfer half of your cauliflower into a food processor to purree, or use an immersion blender to puree your cauliflower in a pot or saucepan. Add half of your garlic butter and half of the salt and pepper as you blend until they are well combined.
Taste and adjust the flavor of your mashed cauliflower as needed, adding more salt and pepper to taste, vegan butter, or almond milk to help your cauliflower puree and have a smoother texture. Looking for something a little cheesy? Try adding a bit of nutritional yeast to your mixture for a cheesy flavor.
Transfer your mashed cauliflower into a mixing bowl or serving platter and cover to keep warm. Repeat the process above for the reason of your cauliflower florets.
Garnish your cauliflower mash with parsley or chives and another small sprinkle of salt and pepper. Serve hot and enjoy!
Buy products in the recipe
Please choose options for all selected products:
Recipes You Also May Like