Buy Ingredients
Ingredients
Directions
Top Tips
Chocolate Pie with Cherry Filling Recipe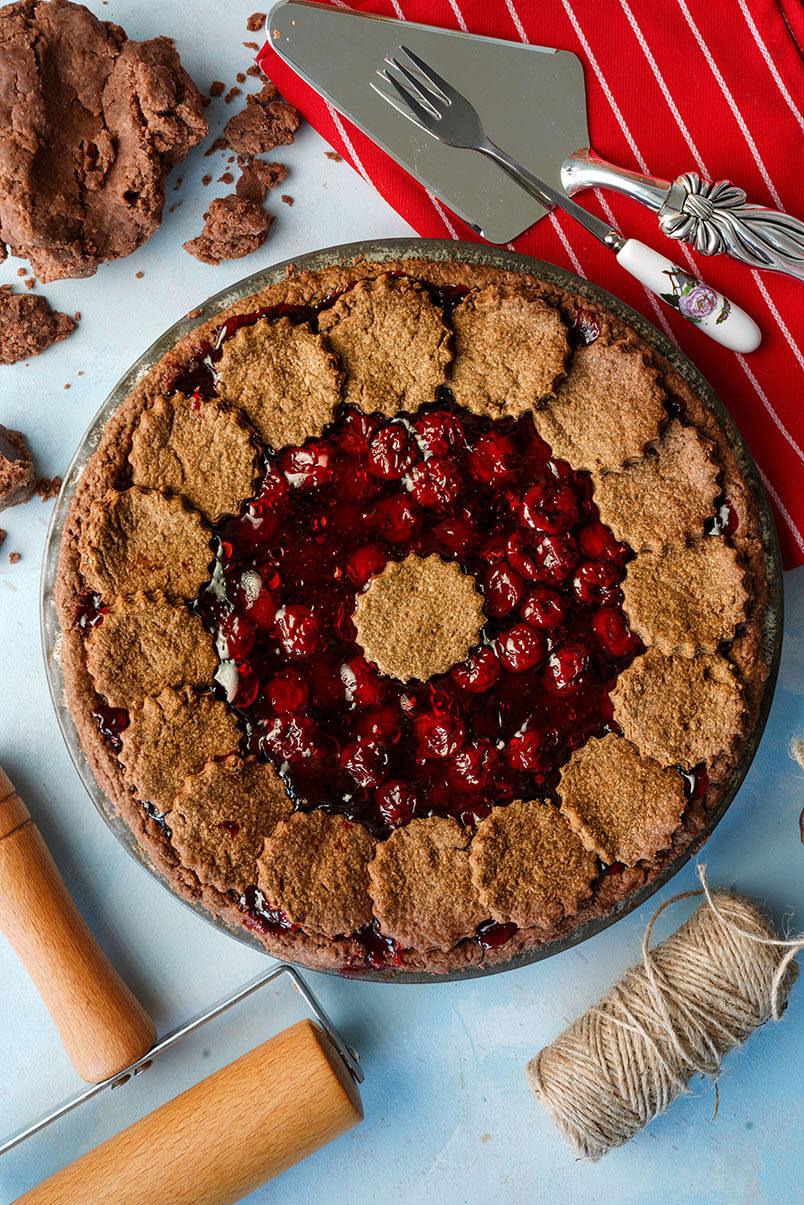 Course
Breakfast, Dessert, Tea time
Cuisine
Italian
Keyword
Cherrie pie, cherries, Cherry filling
Prep Time
20 minutes
Cook Time
1 hour
Total Time
1 hour 20 minutes
Servings
8 slices
Chocolate Pie with Cherry Filling Recipe
Category:

Dessert

Prep Time:

20 minutes

Servings:

8 slices
Here's what you need:
Main Ingredients
Crust
2 1/2 cups All Purpose Flour
6 tbsp Sugar
1 tsp Salt
1 cup Vegan Butter chilled
5 tbsp Ice Water
Extra flour for dusting
Filling
2 can Cherry filing
Topping For a Shiny Crust
1 tsp Sugar
1 tbsp Coconut Oil
Directions
Mix the flour, sugar, cocoa, and salt in a large bowl. Add the butter and combine with the dry ingredients. Mix vigorously with a fork or with your hands till you obtain a dry powdery dough. Pour the water a bit at a time and mix until the dough gets quite firm and moldable.

Divide the dough in two parts, one slightly bigger for the bottom, and one smaller to top the cake, cover with clear film and refrigerate for at least one hour.
Preheat the oven at 350F/180C. Flour a large surface and flatten the two balls of dough into round disks, about 1/4 of an inch/0.7cm thick. Grease an 8-inch springform, place the larger disk into it and gently press the dough against the bottom and up to the edge of the sides.
Remove the excess dough around the edges and then gently press the dough against the bottom and up to the edge of the sides.

If you decide to go for a standard pie, cover with the smallest disk, trim the excess dough around the edges and press the top and bottom crust together with a fork so that the cake won't split while baking. Otherwise cut the disc with your favorite cookie cutters and create your topping exactly as you like it. If you go for option two you might have quite some leftover dough and you might be able to bake a second small cake or some cookies.

Mix the vegan sugar and the coconut oil then brush the crust (but don't forget to cut four vents with a sharp knife on the top if you've chosen the classic pie version!).

Bake for 1 hour.
Cool for 1 hour and serve.
Buy products in the recipe
Please choose options for all selected products:
Recipes You Also May Like