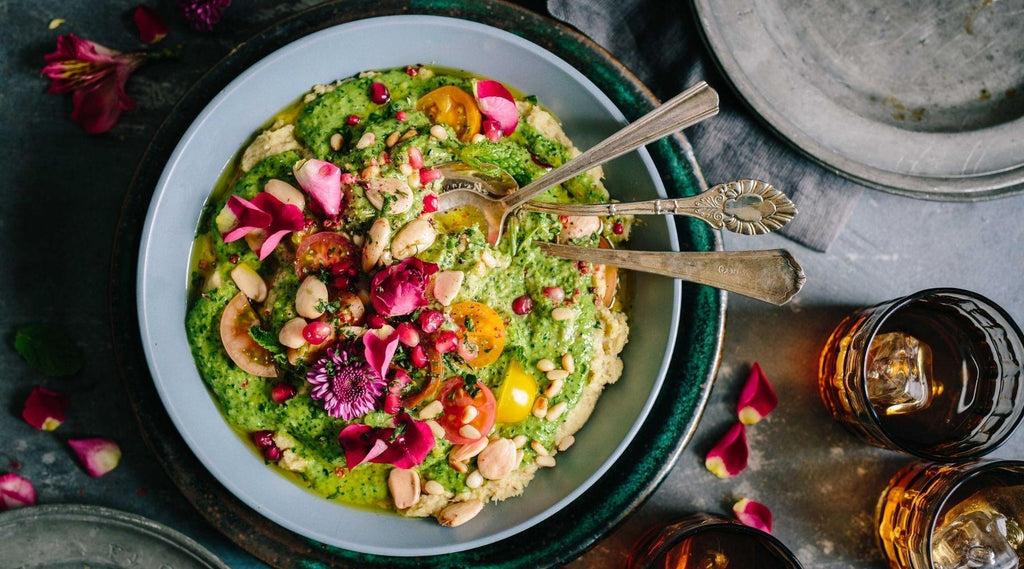 New Year's Eve is upon us! Time for fireworks, champagne, celebrating with friends and family and contemplating the year ahead.
Here at PlantX, our favorite way to start the new year is with a table full of scrumptious vegan recipes that never fail to wow our guests.
New Year's Eve is a bit of a unique holiday as it doesn't have any specific foods connected to it. At Thanksgiving, we have yams and t(of)urkey, at Christmas, we have mince pies and Christmas pudding, but at New Year, the menu is usually a big question mark!
That's why we've compiled a round-up of some of our favorite easy vegan dinner recipes to get you feeling inspired! These vegan food recipes can make up a full menu for a three course meal for your NYE party, or you can pick and choose a few to combine with your own favorite recipes.
Finish the year as you mean to start the next, and get creative in the kitchen! 
1. Ginger Turmeric Margarita
What would NYE be without a signature cocktail? Packed with fiery ginger-turmeric agave syrup and fresh citrus juice, we think this Ginger Turmeric Margarita is the perfect vegan winter cocktail to get the party started! 
2. Pumpkin Soup 
Creamy, bright and beautiful, this tasty Pumpkin Soup makes a light and festive starter. You can substitute the pumpkin for squash, yams or sweet potatoes or a combination of all three. 
With just a handful of ingredients, this soup is quick and easy to make and packs a fabulous flavorful punch with plenty of warming spices! 
If you're keen to carry on the ginger-turmeric theme from cocktail hour, try adding some finely chopped or grated fresh ginger when cooking the onion for even more cold-busting goodness!
3. Harvest Salad
Sometimes holiday food can get a bit much. And by New Year's Eve, you've already had weeks of heavy, hearty food, too much alcohol and not enough greens. Our warm Harvest Salad is here to help! 
Made with delicious leafy kale, nutrient-dense brown rice and crunchy flaked almonds, this warming winter salad is the ideal vegan side dish to accompany your festive fare. The cranberries add a gorgeous pop of color and sweetness that will bring your NYE table to life. 
4. Stuffed Butternut Squash with Plant-Based Stuffing
Ideal as an eye-catching centerpiece for your NYE table, this easy vegan dinner recipe for Stuffed Butternut Squash takes a little more time to prepare but trust us - it's worth the extra effort! 
With luxuriously caramelly roasted squash stuffed with a nutty, herby quinoa and roast veggie Plant-Based Stuffing, it's filling, flavorful and festive as can be. 
Try serving it with some tasty vegan gravy for extra juicy lusciousness. Not even the die-hard meat-eaters will notice it's a purely plant-based pageant! 
5. Jackfruit Pulled Pork
For anyone missing that succulent and savory pop that meat might bring to a NYE feast, this is the perfect cruelty-free substitute. 
Made with tinned jackfruit and spices you'll already have stocked in the pantry, this easy vegan recipe is a standby we guarantee you'll come back to again and again. 
This Jackfruit Pulled Pork has a deliciously authentic meaty texture and sweet, smoky and tangy BBQ coating that pairs perfectly with all your favorite winter vegan side dishes. 
6. Roasted Brussel Sprouts with a Maple Balsamic Glaze
Yes - we went there! Brussel Sprouts get an unfair rap and here at PlantX, we firmly believe they shouldn't be limited to Christmas Day and then swiftly forgotten about until next year. New Year's Eve is a great time to keep on sprouting! 
But don't worry, our easy vegan recipe for Brussel Sprouts with a Maple Balsamic Glaze bears no resemblance to mushy, soggy sprouts of old. These little green jewels are punchy, flavorful and delicious, with a unique balance of sweetness, acidity and spice.
Bring on the Brussels! 
7. Baked Plant-Based Mac and Cheese
Creamy, comforting and seriously cheesy, this Baked Mac and Cheese is a delicious plant-based side dish to add some carby goodness to your winter feast. 
Made entirely from pantry staples, this tasty mac n cheese is simple to prepare and tastes sensational. Baking allows a crisp, golden crust to form on top that provides that irresistible crunch. Make more than you think you'll need - trust us!
Plus, if you've got kids visiting, this mellow, creamy pasta is a great vegan main course for little ones who might not be so keen on kale or quinoa. 
8. Garlic Cauliflower Mashed Potatoes
A must for any easy vegan dinner party, mashed potatoes are velvety smooth, comforting and indulgent. Here, they pair wonderfully with your jackfruit pulled pork, sprouts and stuffed squash as an obliging vehicle for all those delicious plant-based flavors. 
But wait! With mac n cheese here, brown rice there and quinoa as well - do we really need more carbs at this table?! 
Glad you asked!
Our Garlic Cauliflower Mashed Potatoes are made with steamed and pureed cauliflower for a low-carb alternative. With plenty of garlic, vegan butter and a dash of almond milk, they're just as creamy as regular mashed potatoes, only a whole lot healthier! 
9. Chocolate Pie with Cherry Filling
And now for dessert. This Chocolate Cherry Pie might sound complicated, but don't worry! It's as easy as… pie! Made with simple store cupboard ingredients and painless to assemble, this easy vegan dessert recipe is a true show stopper! 
With rich Black Forest flavors and an eye-catching cookie cutter topping, your guests will never know it contains just 6 simple ingredients! 
10. Vegan Cheesecake Bites 
Everyone loves dessert options. And we think these Vegan Cheesecake Bites are the ideal additional treat for your NYE sweet spread. 
Made with dates, walnuts, coconut milk, cashews, agave and blueberries, these no-bake bites contain just 7 healthy ingredients, perfect for impressing your plant-based pals.
And That's A Wrap
Now that you're full of ideas of what to make for your NYE vegan extravaganza, all that's left to do is stock up with ingredients from PlantX and get cooking! We've made sure that all of these recipes are quick, easy and packed with delicious plant-based flavors. 
And hey, if you've been dabbling with vegan recipes like these and haven't felt ready to fully commit, perhaps this is the year to go the whole hog (figuratively speaking, of course)! Your body, the planet and our furry friends will thank you. 
Happy cooking and wishing you a happy, healthy New Year from all of us here at PlantX!