Buy Ingredients
Ingredients
Directions
Top Tips
Stuffed Butternut Squash Recipe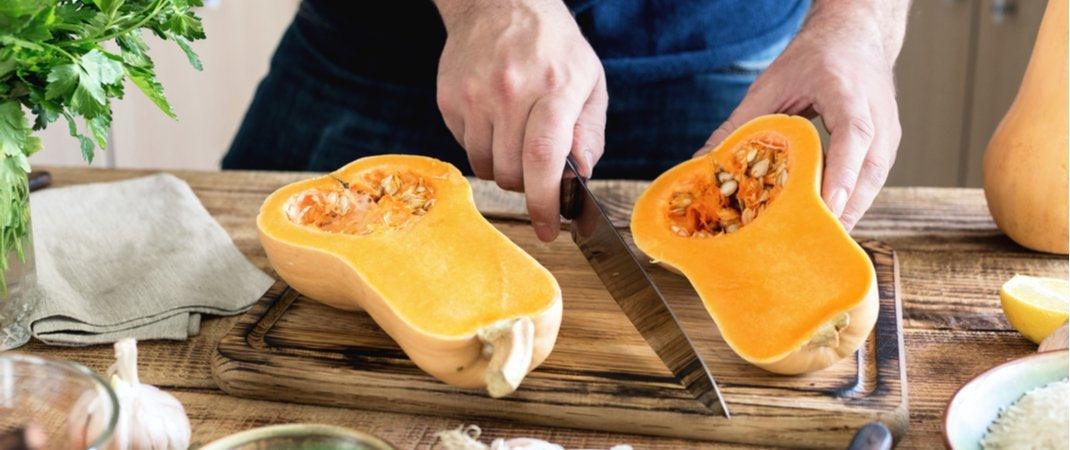 Did you enjoy making
our recipe for Plant-Based Stuffing
, but want to enjoy it as stuffing rather than as a side dish? Then this is the recipe for you! We've made a few alterations to our stuffing recipe so you can enjoy a delicious roasted butternut squash packed with tasty stuffing for any holiday meal.
Stuffed Butternut Squash Recipe
Category:

Dinner

Prep Time:

75 minutes

Servings:

10
Here's what you need:
Main Ingredients
2 cups uncooked Lundberg Tri-Color Bland Quinoa or Lundberg Short Grain Brown Rice.
1 large butternut squash
2 cups brussels sprouts, washed and cut in halves
3/4 cup finely chopped shallots
5 sprigs fresh rosemary
2 1/2 cups prepared Better Than Bouillon Vegetable Base. Better Than Bouillon Vegetable Base.
3 tightly packed cups baby spinach
1 cup shelled roasted pistachios
1 cup dried cranberries
1 teaspoon sea salt
1/4 teaspoon freshly ground black pepper
2 tbsps olive oil.
Directions
Preparing the stuffing
Prepare the stuffing as written in our stuffing recipe, omitting the diced butternut squash.
Preparing the butternut squash
Carefully halve your squash lengthwise, then scoop out the seeds.
Brush the cut sides of your squash with oil, then bake with cut sides down on a foil or parchment lined baking sheet for 15 minutes at 400° F.
After baking cut side down, flip your squash over and continue to bake for another 30-45 minutes, or until tender enough to pierce easily with a knife.
Once your squash is tender, stuff it with your prepared stuffing and bake for another 5 minutes to warm through, and then enjoy!
Buy products in the recipe
Please choose options for all selected products:
Recipes You Also May Like