Eggs are an essential ingredient in breakfast recipes and baked goods alike, but vegans need not to worry. There is a range of versatile, egg substitutes now available to people everywhere who want to make a more ethical alternative to the meals that they love. 
From flaxseed-water mixes to specially-crafted vegan egg substitutes, these recipes include some of the best vegan egg substitutes in a range of tasty recipes. Try one of these quick and easy recipes for a flavorsome meal without any of the cruelty. 
5 Egg-cellent Recipes, Without the Eggs!
Egg-Substitute Breakfast Bites
Makes 12 muffins
Perfect for meal prep and batch-cooking, these vegan egg substitute muffins are light, airy, and moreish. Conveniently portioned, they are perfect for on-the-go breakfasts or as a healthy mid-morning snack. Pack with a selection of your favorite, finely-chopped veggies for an extra boost of fiber and you have a delicious yet balanced start to your day. 
Ingredients: 
2 cups of cold, filtered water
8 tbsp of Follow Your Heart Vegan Eggs 
3 tbsp of nutritional yeast
1 tbsp of olive oil 
½ cup of Violife Just Like Cheddar Shreds
2 tbsp of white onion
1-5 tbsp of diced vegetables if desired - we love peppers or tomatoes in this recipe!

1 tsp of salt
Directions:
Preheat your oven to 450° F.
Dice your onion and the additional vegetables, and fry with olive oil on medium to high heat. Take the vegetables off the heat when the onion turns golden brown and set to one side.
In a mixing bowl, combine the egg substitute with the cold water, salt, and nutritional yeast. Whisk this mixture together until it begins to thicken, this should take around 5 minutes. 
Add the Cool Foods Bacon Bits and Dips Hickory Style pieces into the bottom of the dish, along with your cooked vegetables, then cover with around 1tbsp-1 1/12tbsp of the vegan egg substitute mixture. Evenly distribute the remaining mixture between the muffin molds, all the ingredients should be completely covered with the mix.
Place the pan into the oven and cook for 20 minutes. After 20 minutes, remove the muffin pan from the oven and evenly top each egg substitute breakfast bite with a sprinkling of Violife Just Like Cheddar Shreds 
Place the bites back into the oven for another 2-3 minutes or until the vegan mozzarella has completely melted.
Remove the egg-substitute bites and allow them to cool for at least 5 minutes before serving.
Tahini Chocolate Chip Walnut Cookies with Flax Egg Substitute 
Makes 14-16 Cookies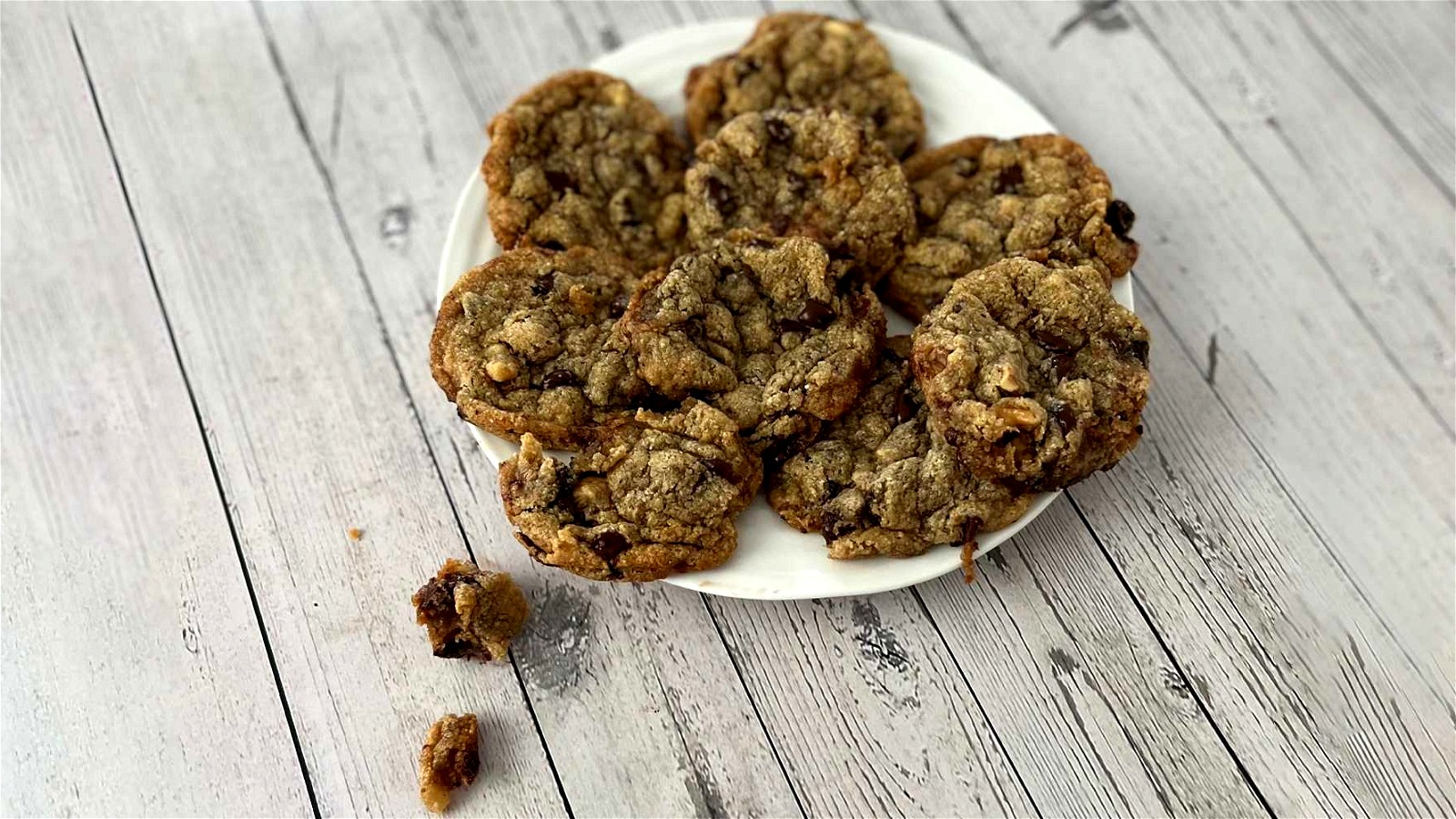 These delicious cookies use flax-seed as a substitute for egg, made using only flax seeds and water! Simply mix the two ingredients together and wait until the consistency thickens. These two simple ingredients become a nutritious, vegan egg substitute. 
Julia's recipe includes a list of vegan cupboard staples, using tahini, almond flour, baking powder, and the flax egg substitute to create a simple dough. She then adds walnuts, vegan chocolate chips, vanilla essence, and spices to add flavor and create that comforting aroma of baking cookies. Remove the cookies whilst they are slightly undercooked to ensure a gooey texture as they set! 
The cookies themselves are crisp on the outside and gooey in the center. They have a hearty crunch from walnuts and rich, vegan chocolate chunks. Perfect with a hot drink on a rainy day! 
Vegan Fried Rice with Scrambled Egg Substitute
Serves 3-4
A true Chinese staple, this dish works as a stand-alone supper, or as a tasty side dish. The pineapple in this recipe adds a hint of sweetness, but feel free to swap for a vegetable alternative if you prefer a more savory dish.
Ingredients: 
2 tbsp vegan butter
2 cloves of garlic
2 tbsp of light soy sauce
2 tbsp of dark soy sauce
½ tbsp rice wine vinegar
¼ of a medium pineapple, cut into small chunks
3 cups of cooked brown or white rice
½ tbsp sugar
1/2 white onion, chopped
½ cup of peas
1/4 cup of Peggs Plant Eggs 
2 diced green onions to serve
Directions:
Cook the white or brown rice according to the package instructions and leave it to cool. This recipe works especially well if the rice was cooked the day before and has been left in the fridge overnight.
Mix the Peggs Plant Eggs substitute with ¼ cup of water and scramble via the package instructions. Place the scrambled egg substitute to one side.
Dice the pineapple and white onion, then fry with the vegan butter on medium to high heat until the onion turns golden brown. Add the peas and cook for another 2 minutes. Dice the green onion. 
Whisk together the light and dark soy sauce, along with the sugar and rice wine vinegar. Add this to the pan along with the cooked rice for another 2 minutes. 
Turn off the heat and mix in the scrambled egg substitute before serving with some diced green onion. 
The BEST Gooey Vegan Brownies with Flax Egg Substitute
Serves 6
These gooey brownies are best served still warm, with a glass of cool almond milk. The crisp exterior hides a fudgy center, packed full of indulgent vegan chocolate chips.
Julia makes these sinfully-good brownies in under an hour! The simple recipe uses melted vegan butter, a flax egg substitute, brown sugar, unsweetened cacao, flour, baking powder, and of course… a large portion of vegan chocolate chips! Prepare the flax seed egg substitute, then simply mix the wet ingredients together before mixing them into the dry components. Bake for 35-40 minutes at 350° F and enjoy!
Did you know that the flax seed egg substitute adds a boost of extra fiber, antioxidants, and omega-3 fats? This brownie tastes good and does good!
Light and Fluffy Egg Substitute Crepes
Makes 6 Crepes 
Delicious and delicate. These crepes are perfect topped with a mixed berry compote, or with a dusting of sugar and a dash of freshly squeezed lemon juice. 
Ingredients:
⅓ cup of Follow Your Heart Vegan Eggs 
1 ½ cups of plant milk
1 cup of flour
2 tbsp of sugar
¼ tsp of salt
2 tbsp of vegan butter
Directions
Add all the ingredients, except the melted vegan butter, to a blender. Pulse until smooth, then add the melted vegan butter and turn the blender on for another 30 seconds.
Add some oil or vegan butter to a pan and heat until the pan is hot. Pour the batter into the pan, creating a circular crepe. 
Allow to cook for 1-2 minutes before turning the crepe over. Serve when both sides are golden brown. 
Egg substitutes in a nutshell… or a not-shell
These 5 Delicious Recipes you can make with Vegan Egg Substitutes are just as tasty as their traditional alternatives, whilst also being cruelty-free. They prove that veganism doesn't mean abstaining from your favorite foods and that through small substitutions you can make a range of classic recipes plant-based. 
Whether you bake, scramble, or stir-fry with vegan eggs, know that you're also helping the planet, one egg substitute at a time.