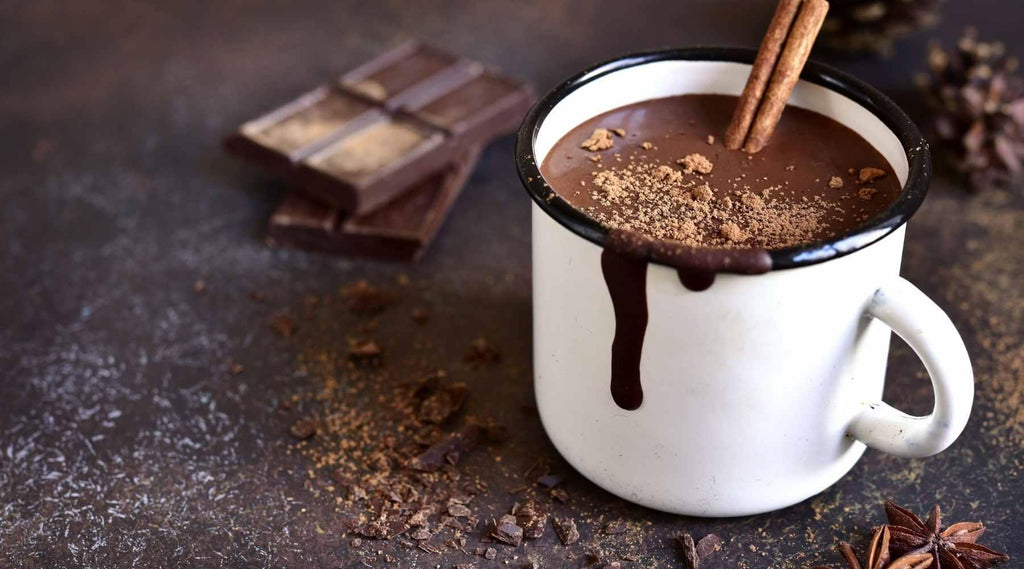 What could be more comforting than a steaming cup of hot cocoa? After a cold winter's walk, a sledge down the hill, or a snowman building extravaganza, there is nothing better to thaw the fingers and warm the belly. Hot cocoa is rich, velvety, sweet and delicious - a real hug in a mug. In fact, we think it's the perfect drink for the winter season. 
However, hot cocoa is usually a dairy-full affair, with milk, whipped cream and chocolate. Luckily for us vegans, nowadays there are plenty of plant-based alternatives perfect for whipping up the perfect vegan hot cocoa. And what's even better is that you can buy them all right here at PlantX. 
A Quick History of Hot Cocoa
As you may know, cocoa originates with the Mayan civilization of Central America. There is evidence to suggest that a hot drink (known as xocōlātl) made with cocoa beans, water, cornmeal, chili peppers and spices was enjoyed as early as 500 BC. As you will notice, this earliest version of hot cocoa was vegan! 
As sugar had not yet reached the Americas, this original cocoa drink did not contain any kind of sweetener. It would have tasted rich, bitter and warmly spiced. 
Cocoa did not reach Europe until 1528 when it was brought to Spain by Cortés, following the destruction of the Aztec empire by European colonizers. Over time, hot cocoa became sweeter and more creamy, influenced by a Jamaican version of the drink that was brewed with milk. 
Hot cocoa was brought to North America in the 17th century by the Dutch. It quickly became a popular winter warmer across the United States and Canada and transformed over time into the drink we know and love today! 
While lots of instant hot chocolate versions are now available, many people are seeking to return to a more traditional (and more delicious) version of the drink, made with real unsweetened cocoa powder. 
The Health Benefits of Hot Cocoa
Now before you get excited, we're not about to tell you that your thick, creamy hot choc, topped with marshmallows and cream is super healthy. It's not. 
But here at PlantX, our philosophy is that everything should be enjoyed in moderation. The joy you get from the occasional mug of vegan hot cocoa is more than worth the calories! 
Plus, cocoa, in its pure form, is actually packed with health benefits. It is a rich source of antioxidants, flavonols, and essential minerals such as zinc, iron, copper, magnesium and selenium. 
In fact, studies suggest that cocoa may…
Improve cognitive function.
Boost immunity.
Support wound healing. 
Help to lower blood pressure.
Reduce inflammation.
You can read more about the health benefits of pure cocoa here.
While vegan hot cocoa is certainly a whole lot healthier than dairy-based hot cocoa, it's still not a health drink. If you're keen to get more cocoa in your diet on a regular basis, try reducing the amount of sugar in our recipe and skipping the cream and marshmallows! 
But make sure to try the deliciously decadent version first! 
So, without further ado…
Let us present our recipe for the perfect vegan cocoa. 
Classic Vegan Hot Cocoa Recipe
This recipe serves 1-3 people depending on your mug size and how greedy you're feeling!
Ingredients 
Method
In a medium sized pan, heat the plant milk, cocoa powder, 1 tbsp sugar or sweetener and the chocolate chips.
Heat slowly and whisk to combine all ingredients. 
Continue to warm until all the chocolate chips are melted and the mixture is thick and smooth. Do not bring to the boil. 
Stir in the vanilla and sea salt. 
Taste and add more sweetener as desired. 
Pour into mugs and top with vegan marshmallows, vegan whipped cream and a drizzle of chocolate syrup.
Enjoy an indulgent and velvety cup of delicious vegan hot cocoa! 
Variations 
Mexican-style Vegan Cocoa
For a delicious burst of taste bud-tingling warmth, take your vegan hot cocoa back to its Mesoamerican roots. Try adding a pinch of cinnamon, nutmeg and cayenne pepper during step 1 of the method. Pure belly-warming bliss! 
Chocolate Orange Vegan Cocoa 
It is our humble opinion that chocolate and orange are an unbeatable combo. If you're in agreement (as you should be), try adding a drop of orange essence and 1tsp fresh orange zest during step 4 of the method. Top with a twist of orange peel for an extra zesty flourish! 
Peppermint Vegan Cocoa
If you're missing the abundance of Christmas candy canes, try filling the hole with our peppermint twist on a classic vegan hot cocoa. Omit the vanilla extract and add ½ tsp of peppermint extract instead. Trust us - this combo was MINT to be! 
PlantX Top Tip: If you don't have any peppermint extract and you still have a vegan candy cane or two lying around, you can omit some of the sugar and simply melt your candy cane into the cocoa mix. Add it during step 1 of the recipe. 
Thick Italian-style Vegan Cocoa
If you've traveled in Europe, you may be acquainted with that extra thick hot chocolate they drink (or rather, eat with a spoon!) in Italy, Spain and Portugal. Super yummy right? What's more - it couldn't be easier to recreate in the comfort of your own home! 
Before adding ingredients to the pan, whisk 1 tsp cornstarch with ¼ cup of plant milk. Combine everything according to recipe, and continually whisk until the mixture is thick, creamy and delicious! Serve with hot vegan churros for the full European experience!
Mocha Vegan Cocoa
If you need an extra bit of pep, or you just love that satisfying coffee-chocolate combo, try making a rich, full-bodied vegan mocha. Omit the vanilla extract and add 1-2 shots of espresso during step 4 instead. Eat your heart out, Starbucks - we've got a new barista in town! 
Try topping with chocolate covered coffee beans instead of marshmallows for some extra energy-boosting decadence! 
Before you Co-coa…
So, there you have it! The perfect drink for the winter season, made with the finest plant-based ingredients. Whether you opt for our classic vegan hot cocoa recipe, or get creative with one of our mouthwatering variations, this winter warmer is guaranteed to make you smile and keep that internal fire LIT!
Be sure to tag us on instagram with your vegan cocoa-tastic creations @goplantx.