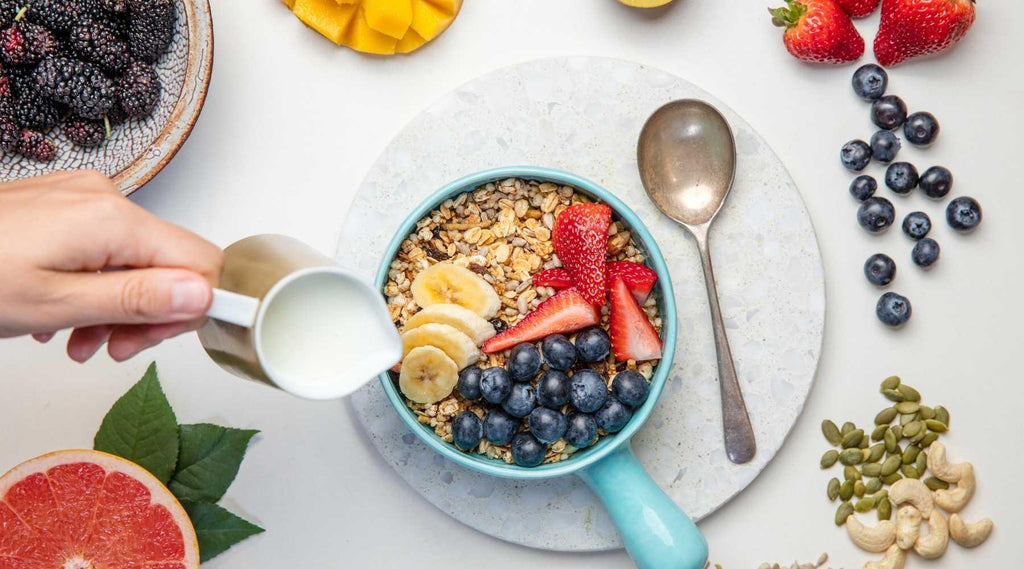 Typical mass-market cereals seem very vegan-friendly at first glance. The multitude of fruit and grain-dense options make cereal seem like a convenient, plant-based meal. However, on closer inspection, many of these brands are riddled with animal-based ingredients, not all of which are obvious from the outer packaging!
Picking a cereal that has been sweetened with sugar, rather than honey, may seem like a safe bet. However many mass-market cereals use refined white sugar, and this uses bone char in its manufacturing. Even cereals fortified with Vitamin D gain this mineral from Lanolin, a substance found in sheep's wool. 
This may seem like a minefield to the everyday vegan, searching for a quick yet tasty breakfast, so we have compiled a list of our favorite vegan cereals. These amazing cereals are balanced, ethical and delicious, perfect for early mornings or late night snacking. 
Start Your Day with these Amazing Vegan Cereals
Forager Project Gluten-Free Cereal
Forager Projects' range of Gluten-Free Cereals are organic, grain-free, and loaded with nutritious ingredients.
Their fun 'O' shaped bites and delicious flavors are reminiscent of the classic cereals of your childhood. But don't be fooled, this is no ordinary, mass-market cereal loaded with sugar. The high protein content coming from plant-powered sources such as chickpeas and navy beans protect against mid-morning crashes. Nutritious cassava root adds fiber and can help to improve gut health, nurturing the bacterial colonies in the gut.
This balanced, gluten-free cereal is the perfect swap for sugary and artificial breakfasts. Pick from Cinnamon, Chocolate, or Strawberry. All contain 5g of protein, 4g of fiber and mountains of flavor per serving.
Nature's Path - EnviroKidz Koala Crisp Cereal
The fun, animal-themed packaging of this cereal is perfect for capturing the attention of children and big kids alike. But this fun box does more than entertain, it reveals EnviroKidz's vital mission. Each box of EnviroKidz cereal you buy helps to save Koalas and their habitat, as a percentage of all sales goes to animal conservation programs. 
These tasty, chocolate rice-puffed bites are a healthier alternative to typical chocolate cereals marketed toward children. They have no artificial ingredients or flavorings and are Non-GMO project certified. 
Perfect for kids and parents alike, EnviroKidz Koala Crisp Cereal is a healthier, more responsible breakfast choice. 
LLamaLand Organics - Andes Superflakes Cereal 
A plant-based cereal from the heart of Peru, this cereal brings Andean superfoods straight to your kitchen. These nutritious ingredients have been the staple of the Andean diet since the Great Incan Empire, and are laden with health benefits.
This 100% organic cereal relies on 5 hero ingredients. Andean White Corn provides fiber and folic acid, which helps in the production of healthy, new red blood cells. Maca, a cruciferous vegetable, contains plant compounds called flavonoids. These natural substances are believed to be anti-inflammatory, anti-carcinogenic, and anti-mutagenic. Amaranth is naturally gluten-free and a good source of vitamin C, whilst Arrachucha and Yacon Root work as natural sweeteners. 
This low-sugar, high-fiber cereal, inspired by ancient plant wisdom, is the perfect way to start your morning.
Nature's Path - Cereal Flax Maple Pecan Crunch
Can't pick between flakes, granola clusters or rice crispies? This cereal has a mix of all 3! Naturally flavored with real, organic maple syrup and buttery pecans, this cereal is mildly-sweet and packed full of nutrition. 
This cereal is a nutritional powerhouse, packed with omega-3 fatty acids, 25g of whole grains, 7g of plant protein, and 5g of fiber. The simple, whole ingredients that make up this cereal are also non-GMO and USDA organic project certified, with no artificial colors or preservatives. 
The co-founder of Nature's Path cereals, Arran Stephens, believes deeply in the power of organic food. His father used to always say that you should leave the soil in better quality than you found it, and Stephens embodies this ideology in his own practice. His safe farming methods moved away from harsh, chemical fertilizers, and his trailblazing cereal was the first on the market to be certified organic by the USDA. 
The satisfying crunch of this wholesome cereal is a more natural way to start your day. 
Barbara's - Organic Corn Flakes Cereal 
Why overcomplicate things? Barbara's Organic Corn Flakes Cereal strips back to basics. This delicious cereal is USDA organic certified and non-GMO project certified and gluten-free. Made out of only organic milled corn, sea salt and organic cane sugar, this cereal uses high-quality ingredients in a simple recipe to create a wholesome treat.
This organic cereal is perfect served with your favorite plant-based milk and a few raspberries, or for use in baking. One of our favorite ways to use this cereal is to swap it with the rolled oats in Sara's homemade High Protein Blackberry Crumble. It creates a crunchier crumble, as opposed to the softer crumble in Sara's original recipe. Alternatively, this organic cereal can be used as a topping on top of vegan yogurt, or can be used in homemade trail mixes for a balanced and portable snack. 
Three Wishes - Grain-Free Cereal
This gluten-free cereal is perfect for the gym go-ers out there, or those who just want to add more protein to their diet. Three Wishes Grain-Free Cereal has 8g of protein per bowl and only 3g of sugar per serving, it is the perfect breakfast to fight off hunger until lunchtime. The best part? This gluten-free cereal comes in 6 exciting flavors!
Choose the Fruity or Frosted cereals for a sweeter serve, whilst Cocoa and Cinnamon are rich and comforting. Their unsweetened cereal is perfect for those who love to add their own toppings. Three Wishes even do a vegan honey-flavored variety!
There are less than 8 ingredients in every box, and this gluten-free cereal is made using 100% Non-GMO Certified ingredients. It's also grain-free and made with nutrient-dense chickpeas rather than typical, less nutritious alternatives. 
Get a bowl and fill it up with your favorite cereal!
We hope this collection of our favorite cereals has inspired you, and proven that there is a wide variety of fun and exciting cereals suitable for those choosing to follow a vegan diet. These balanced yet tasty breakfast options will satisfy your cravings for something sweet whilst still providing lots of nutritional benefits.
To explore an even wider variety of plant-based cereals and granola, visit PlantX's Cereals. You're sure to find something that catches your eye! 
Start Your Morning with these Amazing Vegan Cereals, use them in baking, or have them as a midnight snack. You won't be disappointed.