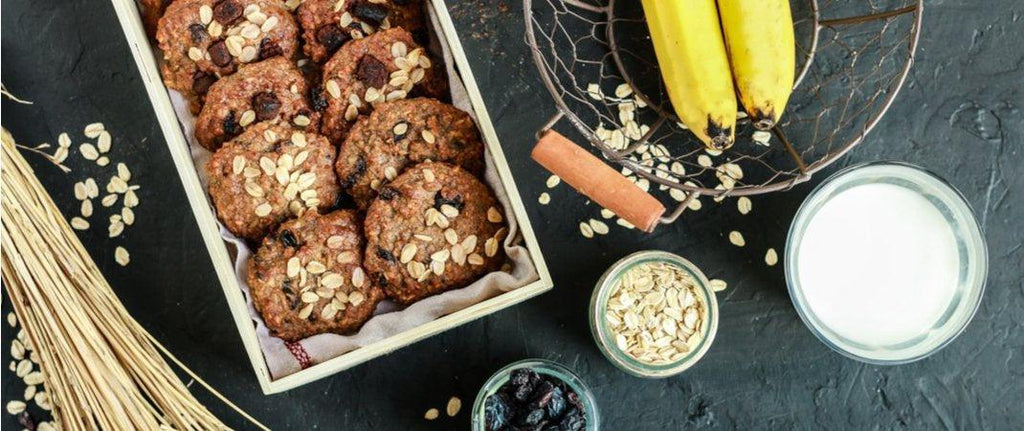 https://www.youtube.com/watch?v=ZmpqySoAgyg
Packed with nutrients, these healthy cookies are great for a quick and convenient breakfast!  They are easy enough to prep ahead, and freezer friendly for an easy solution to weekday breakfasts. Packed full of protein, fiber, and complex carbs, our oatmeal breakfast cookies will help keep you energized throughout the day. 
Oatmeal Breakfast Cookie Recipe
Ingredients:  
Instructions:  
Preheat oven to 350 degrees. Grease a baking pan with coconut oil or use a sheet of parchment paper.  
In a large bowl mash the banana until it resembles a paste. Next, add in the vanilla extract,  almond butter, and maple syrup. 
Use a grater to grate the carrot and zucchini, and then add into the bowl. Add in the remaining ingredients and mix with a fork. If the mix seems too wet, simply add in more oats or flax, but just a little at a time. 
Once everything is mixed in and ready to rock, form into small evenly sized balls using the palm of your hands and place on a cookie sheet. Smash the balls with the palm of your hand or the fork to flatten them a bit. These cookies will not spread so there is no need to leave too much space between each cookie. Bake for 15 - 17 minutes depending on how crispy you want them. 
How to Store Your Cookies:  
Store the cookies in an airtight container. They will last 2-3 days on the counter, 1 week in the fridge, or 2 months in the freezer.
Breakfast Cookie Nutrition Benefits:  
Zucchini is rich in vitamin B6, folate, potassium, and K. Its mild flavor is awesome for baking and is a great way to sneak in extra veggies. 
Carrots are rich in antioxidants such as beta carotene (which the body converts to vitamin A), and vitamin C. 
Rolled oats are packed more protein and fat than most grains, and loaded with soluble fiber. They also contain minerals such as copper, manganese, and iron. Oats are great because they are super filling, so generally when you eat them, you will feel fuller for longer.  
Ground flax is another great option in plant-based baking with its high omega 3 fatty acids, an excellent source of dietary fiber. 
Sesame seeds contain high levels of minerals such as calcium and zinc and are rich in B  vitamins. Plus they add a nice crunch in baking.  
Hemp seeds are a complete protein, a source of vitamin E, and are a plant-based source of omega 3 fatty acids. 
Chia seeds are a great binding agent in plant-based baking and can even be used to replace eggs. They are a rich source of omega 3 fatty acids, protein, fiber, minerals such as iron and calcium. 
Coconut is a source of iron, zinc, and fiber. Plus it adds in a nice natural sweetness in baking.