Quick Description
This exquisitely quaffable red wine will leave its warm, juicy flavors tripping over your tongue. The perfect blend of fruit and body will make any dinner a celebration.
Key Information
Vegan
Organic
Produced in California
13% Vol
Cabernet Sauvignon, Zinfandel, Pinot Noir, Petit Sirah, Merlot blend.
Product Overview
If you're in need of a beautifully balanced red wine then look no further than Big Guy Red Wine. This oaky, juicy, heavenly blend is utterly addictive. This expert blend of Cabernet Sauvignon, Zinfandel, Pinot Noir, Petit Sirah & Merlot will leave your mouth watering for another sip. The syrupy oak flavor and freshness of dried fruit shines through in this wine and the soft tannins will provide pleasure to your palate. Ever so slightly spiced, this blend lends itself perfectly to a night on the porch or a dinner party with friends.
The wide appeal of this wine means you are guaranteed its preference at the table, a definite crowd-pleaser! Whether cooking up a storm over a BBQ or plating up a delicate tasting menu, Big Guy Red Wine won't let you down. Its delicate flavors but bold foundation hold up to a variety of foods and palates. Named after the owner's beloved Wheaton Terrier, who loved to roam around the vineyard, Big Guy Wines have dedicated their time to making stellar vintages that stand the test of time.
Ingredients
Cabernet Sauvignon, Zinfandel, Pinot Noir, Petit Sirah, Merlot blend.
Frequently Asked Questions
What can I pair the 2018 Big Cellar Wines Big Guy Red Wine with?
The sweet oak and berry flavors will pair perfectly with a smoky BBQ jackfruit dish or rich vegan macaroni & cheese. However you might find the bottle gone before the food comes out, you won't be able to resist the drinkability of this sensational red.
Client Reviews
Customer Reviews
Write a Review
Ask a Question
11/17/2021
Gail R.

United States
Great packing
The wine was a gift for our friend from California yet living in Texas. Who happens to have the nickname "Big Guy". So I will not be able to taste. Delivery time and package was PERFECT. Thank you!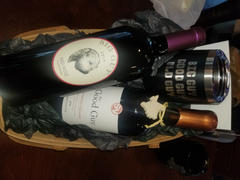 Hi Gail, That's such a cute coincidence! We're so glad your friend has received their wine well and we hope they love it! Thanks so much for checking us out. Hopefully you get to try the wine for yourself as well! Thank you for choosing PlantX! Stay Planted. Stay Curious. Stay Healthy. Best, Rochelle PlantX