Let's be honest. We can all agree that baby wipes are the easiest, quickest, and most effective way of cleaning up your little one. Whether it's wiping their bottom or cleaning grubby hands, all you need to do is grab a wipe, clean, and your baby is good to go! 
But then you think of all that waste. In fact, newborn babies alone typically go through 300 nappies a month, so just think of all the mountain-load of wipes! Horrifying, right? Not only is it bad for the environment, but standard wipes typically contain harsh and harmful ingredients that can cause all sorts of issues.
Whilst opting for reusable DIY wipes is the most environmentally and skin-friendly option, sometimes it isn't the most practical. Luckily for us and the planet, eco-friendly and natural baby wipes keep getting better to help us reduce our impact on Earth. 
Not sure what to look for? Read through our guide to find out what vegan wipes are and what to look out for when choosing the best for your baby. We also go through some of our favorite brands and why we think they're the best!
What are plant-based and vegan baby wipes?
Plant-based and vegan baby wipes are typically made without artificial fragrances, are chemical-free and non-toxic. Some can be made with up to 99% water, others are compostable and all of them should break down easily. All natural baby wipes should be made from plant-derived materials, and should certainly not contain any plastic fibers.
Why should you opt for natural baby wipes?
Although they look the same, standard wipes and baby wipes alike contain plastic fibers. These little plastic fibers make them virtually indestructible, and when they're flushed they can cause all sorts of problems. 
Unlike toilet paper, wipes don't break down when they're thrown down the toilet. Instead, they make their way into the sewers and clump together. They cause nasty backlogs and when they make their way to the ocean, there's no stopping their impact on the environment. 
Not only is it an environmental threat, but also a rather expensive financial issue. Whilst biodegradable wipes should never be flushed down the toilet, at least they break down much faster than their plastic-laced cousins.
Not only are they impossible to break down, they usually contain potentially harmful chemicals and fragrances. This pollutes the environment and can irritate your precious newborn's skin. Some common issues they may cause include making your baby more susceptible to rashes, skin conditions such as eczema, and even interfere with their hormones. Needless to say, natural baby wipes are a much preferable option!
What to look for in eco-friendly and natural baby wipes?
Material:
The best natural baby wipes are usually made from renewable and sustainably sourced plant-based materials. They'll either be made out of fast-growing bamboo, FSC certified wood, or other plant fibers such as cotton or microfibers.
Fragrance:
If your baby has super sensitive skin, opting for fragrance-free vegan wipes can help reduce irritation and rashes. You can also choose organic baby wipes that contain natural essential oils if you prefer a slight scent. 
PlantX Tip: Wipes that contain rosemary oil extract and aloe barbadensis (aloe vera) leaf extract have ultra-soothing properties and a light refreshing scent.
Biodegradability:
This is a big one. Always go for natural baby wipes that don't have any plastic fibers in them, as this stops them from biodegrading. Avoid wipes that contain rayon, viscose, and lyocell, as these are known plastic fibers companies use to make the wipes more durable. 
Reusability:
Some brands even offer reusable vegan wipes. These are the perfect solution for using at home, and some even come with their own waterproof wash bag to help make washing as pain-free as possible.
What to avoid:
Avoid wet wipes that contain harmful parabens, preservatives, phthalates, artificial fragrances, and chemicals. Some of the top ingredients to look out for are:
SLS
Parabens
Chlorine
Petrochemicals
Phthalates
Alcohol
Formaldehyde carriers
Phenols
PlantX's top picks:
Pipette Fragrance-Free Baby Wipes
Soft to the touch, thick, and fragrance-free, Pipette's Fragrance-Free Baby Wipes are what new parents' dreams are made of! Not only are these considered sensitive baby wipes, but they're also made of 100% renewable plant-derived fibers, EWG certified, and completely free from all those nasty ingredients listed above. 
Pipette has also created innovative plant-based squalene derived from renewable sugarcane, which helps keep your baby's bottom extra soft and moisturized. They're dermatologically tested, hypoallergenic, and suitable for sensitive skin, so you don't have to worry about what you're putting on your baby's skin.
The Honest Company - Rose Blossom Wipes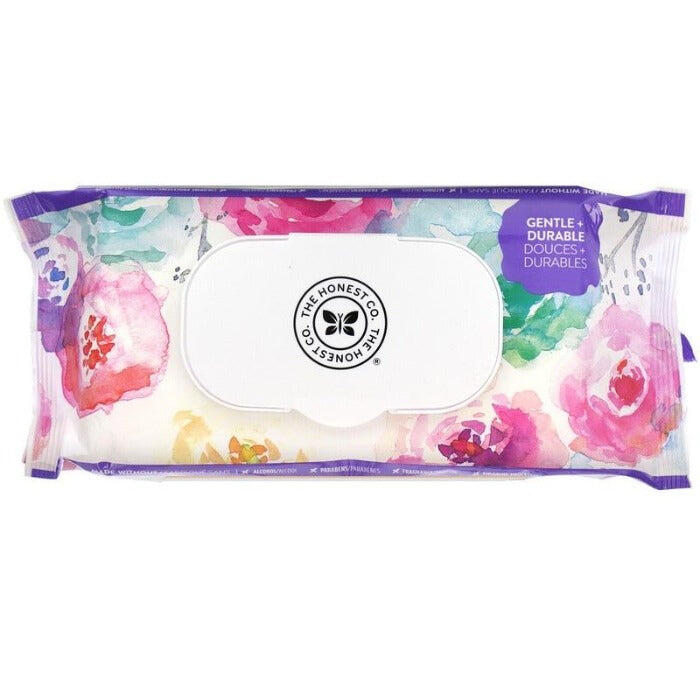 Not only are these vegan wipes made from 100% plant-based materials, but they're also made with 99% water and perfect for sensitive skin. The Honest Company's Rose Blossom Wipes certainly don't sacrifice texture, thickness, or scent. These plush baby wipes are thick, ultra-soft, and have a beautiful fresh scent composed of natural essences.
Not only are their wipes worth raving about, but they also have some pretty impressive certifications. They're certified safe by the National Eczema Association (NEA) Seal of Acceptance™, as well as EWG verified and a USDA certified biobased product. 
Why can't you throw natural baby wipes down the toilet?
Whilst it's very tempting to flush your wipes down the toilet, it's important to understand you should never do this. Although some claim they're flushable, wipes usually need very specific conditions for them to break down. Sometimes wipes can take months, if not years to break down and that's even when they're biodegradable. Always throw your wipes away and dispose of them properly - because a happy planet is a happy life!