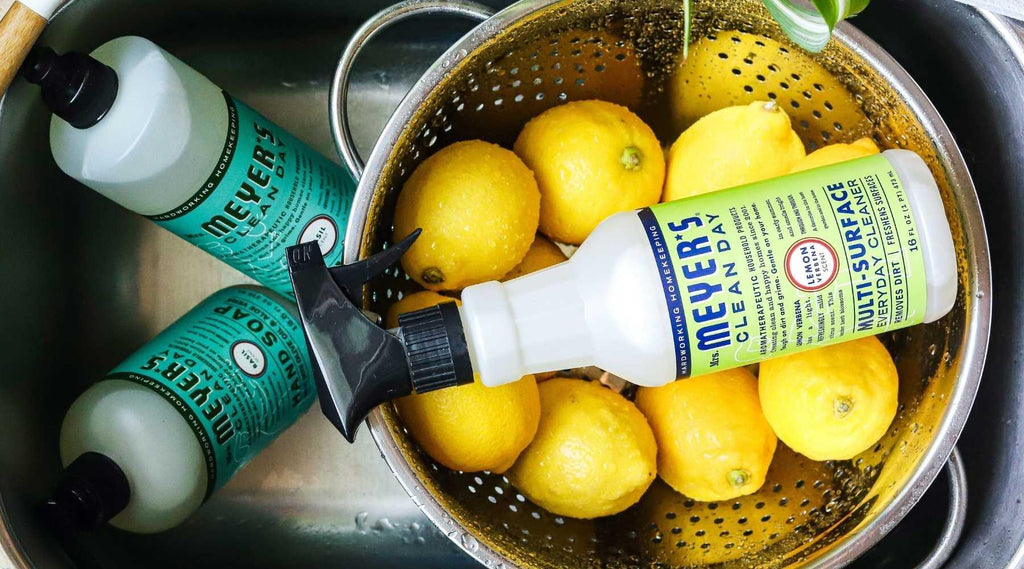 The home should be a sanctuary. A place of calm and cleanliness. Somewhere you feel utterly relaxed. Why then, have we spent years cleaning our homes with toxic chemicals? Whether it's brushes made from animal hair, toxicants in your bleach, or animal-tested cleaning soap, for too long the world of household cleaning has been environmentally disastrous.
Luckily, there is a solution. And that solution is vegan cleaning products. There are a whole bunch of great vegan cleaning products out there. From cruelty-free scrubs to natural toilet cleaners, these vegan cleaning products are designed to keep your home both clean and natural. 
And the benefits don't end there. When we clean our homes with dangerous chemicals, it isn't just us who suffer. Cleaning chemicals make their way into the water supply and damage the wider environment. 
So. Take a look through this list of fantastic vegan cleaning products and start creating a home that is as good to the people who live inside it as it is to the community in which it exists in. 
1. Mrs. Meyers Liquid Hand Soap
Mrs. Meyers Liquid Hand Soaps are a bit of an institution. Look around any Brooklyn apartment and you'll be sure to catch a glimpse of its famous label. And there are good reasons why. Mrs. Meyers is just so reliable. 
It's a fantastic brand with all-natural ingredients. True masters of vegan cleaning products. Where other hand soaps leave you feeling dry and undernourished, Mrs. Meyers is soothing and hydrating. 
And what's more, these vegan cleaning products come in a range of knockout fragrances. Try the Basil for something uplifting, the Lavender for something floral, or the Lemon Verbena for a zesty summery kick. 
2. CleanWell Disinfecting Wipes, Lemon
Made with plant-derived ingredients, these CleanWell Disinfecting Wipes are a must-have. In an era where we have become oh-too-familiar with the importance of sanitation, you should choose a wipe that suits you. 
These wipes kill 99.99% of household germs, they are pet safe, and they even leave behind a subtle and super-fresh lemon scent. 
Perfect for all your hard surfaces, whether that's your kitchen sink, your bathroom, or your dining table. Vegan cleaning products you won't regret using. 
3. EO Hand Sanitizer Wipes, Lavender 
These days it's just so important to keep your hands sanitized. But what about all that waste? When you're out on a walk it doesn't take long to spot a disused hand wipe. 
Luckily there are EO Hand Sanitizer Wipes. Not only do these vegan cleaning products kill 99.99% of the bacteria on your hands, but they are 100% biodegradable, too!
The convenient-to-use packets perfectly slip into your back pocket or bag, great for when you're on the go. Infused with aloe, glycerin, chamomile, and calendula extracts, these vegan cleaning products moisturize whilst they sanitize. So say goodbye to those dry hands!
With a lavender scent, there's no reason why you wouldn't grab yourself a packet. 
4. Mrs. Meyers Surface Scrub
So you've got stubborn stains that just won't go. Maybe you're starting to think that you need to reach for those high-strength chemicals? But hold up. Mrs. Meyers has a solution. 
This high-powered Surface Scrub is just the ticket. Wet the surface and sprinkle a little on the stained area. Give it a good scrub and… Voila! Stains are gone. vegan cleaning products that are perfect for stainless steel, porcelain, or cookware.
This is a hard-working scrub without all the harmful fumes. 
5. Dr. Bronner's Liquid Soap
This is an absolute classic. Dr. Bronner was founded in the 1940s and still runs as a family company. Emanuel Bronner was a fascinating man. A spiritualist with a love for the natural world. 
This versatile liquid soap comes with the distinctive Bronner label, which still carries some of Emanuel Bronner's philosophical musings. 
It's a soap for all occasions. You can use it to wash your hair, face, body, and pets… Even your dishes! Some people like to dilute Dr. Bronner's Liquid Soap to help it go even further. And they come in a bunch of distinct scents. Lavender, peppermint, or tea tree.
Once you become a Dr. Bronner's Liquid Soap convert, it can be difficult to move on! Dr. Bronner's make vegan cleaning products that are hard to beat. 
6. Ecover Toilet Cleaner
You might not want to spend too much time thinking about what goes down your toilet, but trust us… It's important. What you flush down the toilet can very easily find its way into the wider environment. 
Especially in modern cities, we are running into big problems. Chemical heavy toilet cleaners might seem like a good idea, but when you have millions of people doing it each and every day? Well, the fish are certainly not thanking us... 
This Ecover Toilet Cleaner lets you do your part, without having to sacrifice any cleanliness. It decalcifies. It freshens. It cleans. And Ecover guarantees it won't be hurting aquatic life on the other side. 
It also comes in a recycled bottle. Make this one of your vegan cleaning products and you'll be ever so grateful (and so will the fish!). 
7. Pipette Fragrance-Free Baby Wipes 
This is an everyday hero from Pipette. Its Fragrance-Free Baby Wipes are there when you need them most. They use plant-based cloth fibers to deliver a natural, soothing baby wipe. Fantastic vegan cleaning products. 
They are also fragrance-free, so if you prefer to keep the odors natural, then this is your top option. 
8. Everyone Hand Sanitizer Wipes, Coconut and Lemon
Here's another hand sanitizing option. This one is from Everyone and they are a knockout. They come in a convenient pack of 30, kill 99.99% of bacteria, and are scented with a distinct coconut and lemon flavor. 
In 2011, Everyone became the first personal care company to be registered as non-GMO. When it comes to vegan cleaning products it takes great care when sourcing all of its ingredients, and never more so than with these Hand Sanitizer Wipes. Even the alcohol in these wipes is derived from sugar cane to minimize environmental impact. 
9. Mrs. Meyers Toilet Bowl Cleaner, Lemon and Verbena 
And here's one more from our old friend Mrs. Meyers. This Toilet Bowl Cleaner is a winner. If you are interested in cruelty-free vegan cleaning products, then look no further. Made without phthalates, chlorine, or harsh acids, this is a cleaner that's safe for your toilet and your lungs. 
Mrs. Meyers' vegan cleaning products are inspired by Thelma A. Meyer. A mother of nine who decided that cleaning the house should be an enjoyable task. With scents inspired by a Mid-Western garden and using plant-based ingredients, these are vegan cleaning products that you shouldn't go without. 
To sum everything up 
So there you have it. Enough vegan cleaning products to get you started! For too long a clean house has had to involve inhaling a bunch of harsh chemicals. And our environment has suffered too. 
Just have a go using some of these vegan cleaning products and never again will you find yourself saying 'well I'd love to go natural, but it just doesn't do the job'. Now you can have it both ways. A sparkling house and a good conscience too!