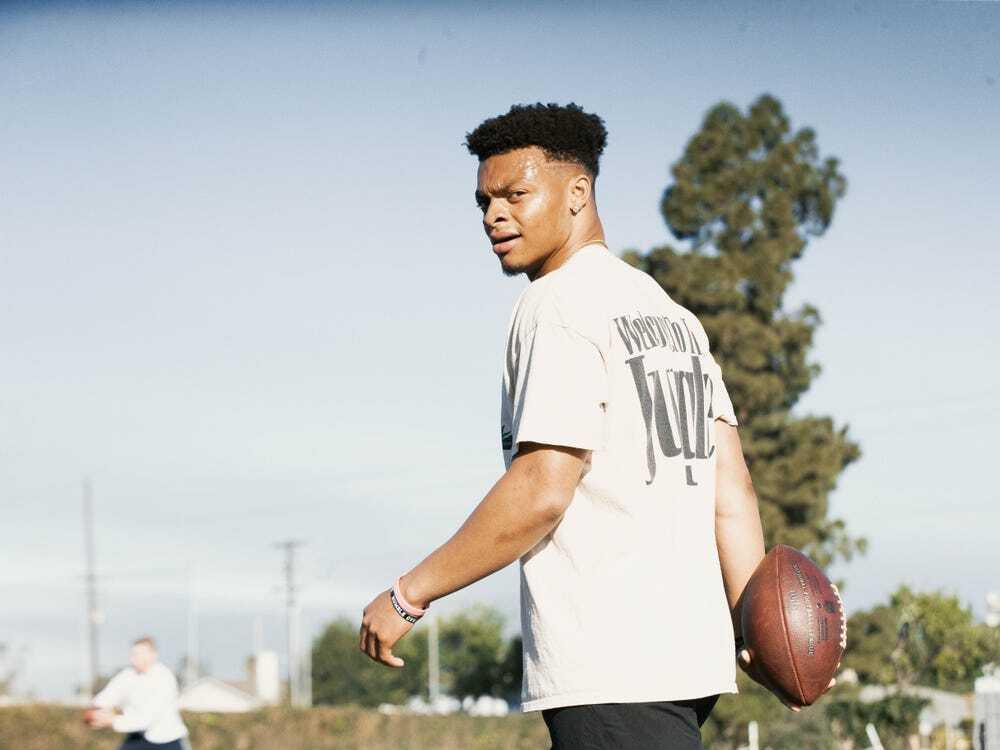 The Chicago Bears are a franchise synonymous with poor quarterback play, which has been a detriment to this team for decades. The hope is rookie Justin Fields can change that narrative and finally give Bears fans the franchise quarterback they've never had.
In many ways, Bears fans are still pinching themselves that Fields is a Bear after he fell in the draft and Chicago was able to trade up to grab him at 11th overall.
While Fields was believed by many to be the second-best quarterback in this draft class, there were several teams who overlooked him, whether that was drafting another quarterback or a different position entirely. But Fields doesn't have a chip on his shoulder. Instead, he's embracing the opportunity in front of him with the Bears.
"I live by this mantra, I think everything happens for a reason," Fields told Bears Wire. "I'm not mad at those teams who passed on me, I'm just glad for the opportunity I have."
Fields is well aware of the fact the Bears haven't had a star franchise quarterback, and he's embracing the chance to be that guy for Chicago. For him, there's no better opportunity.
"Chicago hasn't really had a franchise quarterback," he said. "So me just getting the opportunity here, there couldn't be a better place for me to end up."
Since being drafted by Chicago, Fields has united the Bears fanbase. The excitement surrounding Fields has been unlike anything this city has experienced in awhile. Whether that's getting a standing ovation at a Cubs game or one fan's determination not to die before seeing Fields in action for the Bears, Fields understands what it means to be in this position, where he has a chance to rewrite the quarterback narrative in Chicago.
"I definitely understand," he said. "There's something new that pops up every day that Bears fans do. Like literally today, I was driving and this dude noticed me while I was driving and started yelling out the window, 'Yeah!' and all of that stuff. I can definitely tell everyone loves the Bears around here. So it's great seeing we have so much support from the city."
And that excitement is just because of his potential. If Fields can deliver the Bears a star quarterback — and hopefully the franchise's first Super Bowl championship in nearly four decades — he would be a legend in Chicago forever.
With Fields aiming to become a star quarterback in Chicago, he understands it takes a lot of work to get to that point. For him, that includes not only conditioning and training, but his diet, as well.
Back in spring 2020, Fields joined his father, stepmother and sister in trying a 28-day plant detox, which excludes meat and dairy products, as part of a challenge at the start of the pandemic.
While Fields was hesitant at first, it's something that he's embraced after experiencing the benefits that come with living a plant-based lifestyle, especially as an athlete. In fact, he plans to follow a plant-based diet for the rest of his life.
"After that 28-day period, I just liked how my body felt," Fields said. "I lost 10 pounds, but I didn't lose any muscle. I just felt stronger, I felt faster, I felt more energized when I woke up. Throughout workouts, I wasn't getting as tired as fast. My stamina got a lot better and stuff like that. The physical aspect of being a part of that plant-based diet definitely made me switch."
The decision to partner with PlantX as an ambassador and educator was easy for Fields, who aims to promote plant-based living and share the company's products.
"Not only making the food convenient but food that tastes good and is healthy for your body," Fields explained of his decision to partner with PlantX. "I think that was the most important part for me. Having all of those intangibles in one, pretty much having everything you need in one company."
And for those who might be nervous about attempting a plant-based diet, Fields encourages you to at least give it a try.
"I think everybody's hesitant hearing it at first," Fields said. "But I would say don't bash it until you've tried it. I think they should try it for two to three weeks, see how they feel, and if it's not for them, it's not for them. But I think a lot of people talk bad about it without even trying it. So I would definitely tell those people who aren't plant based to try it, to see how they feel, and I think they'll feel better not only physically but mentally."