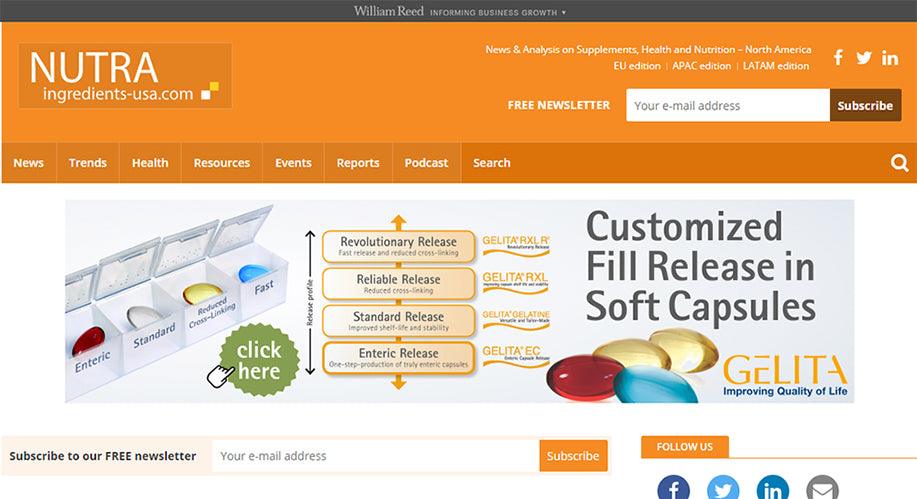 It may be a new year, but immunity is still the name of the game. From functional beverages to powders, we're seeing immunity run the gamut in January launches. The month also welcomed some unexpected formats and even something for the fur babies.
Effusio's dissolvable discs
Effusio, a health solutions company that uses flexographic printing technology to provide environmentally friendly alternatives to health beverages, just launched two new dissolvable beverage discs, Prebiotic + and Sleep +. The new offerings are designed to deliver essential vitamins, minerals and complex nutrients via environmentally conscious discs that are dissolvable in a variety of liquids. Prebiotic + is a blend of ingredients that support digestive health and immune function, packed with a novel bacteriophage prebiotic, and extracts of green tea, pomegranate and blueberry polyphenols. Each pomegranate blueberry-flavored nutrient disc promotes gut health by feeding the gut good bacteria. Sleep + is a blend of sleep-supportive nutrients that promote restful sleep without next-day grogginess, addressing each stage of a person's sleep cycle. Each blueberry-flavored, nutrient disc contains three, well-recognized sleep-supportive nutrients: L-theanine, chamomile, and melatonin. Effusio Prebiotic + dissolvable beverage discs are available for purchase for $42 for 30 discs and the Sleep + runs $32 for 15 discs, both at
effusio.com
​.
Star Nutra's Unmarked Wellness
Nutraceutical manufacturer Star Nutra launched their first owned-brand, Unmarked Wellness, which touts both farm fresh and lab-patented ingredients with absorption-enhancing features in a three-product gummy vitamin lineup. Developed in conjunction with in-house medical professionals, the products are available in a 30 or 60-day supply. Resilience ($24): Main ingredient is Elderberry, which contains high levels of vitamin C to support a healthy immune system. Sunshine ($18): Made up of Vitamin-D, which is a fat-soluble vitamin that plays a central role in calcium metabolism. Moonlight ($22): Combination of Melatonin and L-Theanine and passionfruit to reduce stress and anxiety and promote sleep Unmarked Wellness products are vegan, cruelty-free, nut-free, GMP certified and are sold at
unmarkedwellness.com
​ and Amazon.
Orgain's Superfoods + Immunity Up!
Orgain  debuted their expanded suite of products, including Superfoods + Immunity Up! Nutrition Powder in Honey Crisp Apple & Orange Tangerine. The nutrition powders contain one billion probiotics, organic fruits, veggies, key antioxidants from food, and a blend of reishi, ashwagandha and cordyceps mushrooms. The products can be mixed into water or worked into a smoothie. The powders are available for purchase online and at Costco for $25/13.3oz container.
PlantX Launches Baby Products Vertical with Else Nutrition
PlantX recently announced that the Company's US ecommerce platform will begin featuring baby formula products from Else Nutrition. Else Nutrition's baby formula will be the first product available to order in the new baby products section of the company's US ecommerce platform. The plant-based baby formula contains natural and organic ingredients that are free from dairy, GMOs, corn syrup and gluten. Intended for babies 12 months and older, the formula is made with primarily almonds, buckwheat and tapioca in addition to 20 vitamins and minerals to support growth and development at an early age. It has a price tag of $36 for 22oz at
plantx.com/brand/else-nutrition
​.
Eyetamins Blue Blocker
Whether it's dry winter weather or blue light increasing eye strain, the makers behind Eyetamins say their Blue Blocker is there for those seeking maximum protection from the indoor and outdoor elements. The formula was created off the clinically-proven AREDS 2 formula, the company's eye health blend that combines vitamin C, vitamin E, zinc, European bilberry extract, saffron extract, lutein from Lutemax 2020, and zeaxanthin from Lutemax 2020. The formula is vegan, gluten-free, contains NO soy, eggs, fish products, dairy, peanut, tree nuts, wheat, or other allergens. Eyetamins aim to filter blue light, reduce eye strain, enhance eyesight and improve sleep. The capsules are available on
Amazon
​ for $30 for a 30-day supply.
PRTCL Sports Nutritional Supplements for women
PRTCL (pronounced
'particle'
​) has unleashed a new line of sports nutrition supplements formulated specifically for the female body and her nutritional needs. The scientifically-backed collection includes protein powders, an immunity booster and pre- and post-workout formulas. Formulated with vitamins, minerals and antioxidants to complement a woman's unique nutritional needs and hormonal cycle, PRTCL products are intended to help build strength and energy levels, and promote overall wellness. The PRTCL collection includes: ESSENTIAL is a whey protein powder, containing vitamins and minerals such as vitamin D, magnesium and iron, which are often limited in a low-calorie diet. The powder is packed with 20 grams of protein per serving and can be used in cooking and baking. It comes in unflavored, French vanilla and dark chocolate flavors. STAMINA is a pre-workout supplement designed to provide energy throughout the day and also has added B vitamins and amino acids to slow absorption for sustained energy without the crash. The supplement is available in lemon citrus and cranberry grapefruit flavors. REPAIR is a post-workout supplement designed to help aid recovery after a strenuous workout. With all nine essential amino acids, coconut water powder for potassium and vitamins D, E, K, C, calcium carbonate and antioxidants, this product helps fight the oxidative state and repair muscle quickly. Flavors include blackberry lemon and mint limeade, which can be added to water or used as an ingredient in mocktails. SUPPORT is an immunity booster to help with recovery and promote overall wellness. It is formulated with vitamins A, C, D, E, folic acid, potassium, sodium, green tea, magnesium, elderberry and zinc. SUPPORT is unflavored and can be added to most beverages. All products are gluten-free and available at
prtclproducts.com
​. Ranging in price from $23 to $45, each supplement can be purchased individually, bundled or as part of a subscription.
CV Sciences Debuts CBD Pet Line
CV Sciences recently announced the launch of PlusCBD Pet, a full line of hemp extracts formulated for dogs and cats. Made with the same hemp extracts used in CV Sciences' human CBD products, PlusCBD Pet is available in 250mg and 500mg formats with pet friendly flavors, including beef, chicken, peanut butter and salmon, as well as unflavored. The 250mg extract is $25 and the 500mg goes for $40 at
cvsciences.com
​.