Christmas Cactus Schlumbergera truncata
Brand - PlantX US
Out of stock
Earn PlantX Points
Sign up for our loyalty program
here
to start earning points today.
Quick Description
This beloved holiday cactus will bring a festive look into any indoor garden.
Key Information and Plant Overview
Other Common Names: Zygocactus, Thanksgiving cactus, crab cactus, holiday cactus.
Binomial Name: Schlumbergera truncata.
Care Level: Easy
Light: Bright, indirect light.
Water: Allow the top 2" of soil to dry before watering.
Pet Friendly: Yes
This beloved holiday cactus will bring a festive look into any indoor garden. The Christmas Cactus is a winter-flowering jungle cactus that blooms in various colors of red, white, yellow, pink, and purple. The flowers will stay in bloom for several weeks and can be found at the end of each one of its long cascading stems. The stems are made up of flattened specialized leaves. 
This easy-to-maintain cactus blooms right in time for Christmas, making it an excellent gift for the holidays.
The Christmas Cactus is native to the mountains of south-eastern Brazil where its natural habitats are subtropical or tropical moist forests. Thriving in temperatures of 60-70°F (15-21°C), indirect sunlight and can grow up to 6–12 inches tall, and 12–24 inches wide. This plant prefers a more humid environment, which makes it a great plant to have in a bathroom or kitchen.
PlantX Top Tip: Pinching back the stems in early June will promote branching and more terminals for more flowers.
How to Care for Christmas Cactus
Light: Prefers bright, indirect light.
Water: Water when the top 2" of soil is dry. Christmas Cactus tolerant being dry, slightly under-watered during the spring and summer.
Humidity: Higher levels of 50 to 60 percent humidity.
Temperature: Prefers warm temperatures from 15° - 21°C ( 60° - 70°F )
Fertilizer: From spring through early fall, feed every 2 weeks with a balanced houseplant fertilizer. During the fall and winter, feed the cactus monthly to encourage successful blooming. Once blooms appear, refrain from using fertilizer again until they have naturally fallen off.
Soil: Use a well-drained potting mixture.
Propagation: propagate by cuttings, which are best taken in May or June.
Repotting: Repotting is necessary only about once every three years and is best done in the spring.
Cleaning Tip: Gently spray with water.
Toxicity: Non-toxic.
Christmas Cactus - Common Problems
Blossom drop: Fertilizing when blooms are starting to form can cause blossoms to drop, this is due to a salt build-up in the blooms themselves.
Wilted or limp Christmas cactus: This can be caused by a lack of water or too much direct sunlight. This plant likes bright but indirect light. For under-watering, begin by giving the plant a limited drink. Continue to water sparingly every few days until the soil is slightly moist. 
The Christmas cactus will not flower: The Christmas cacti blooms are triggered by the cooler temperatures and longer nights of fall. The nights need to be at least 14 hours long and days between 8 to 10 hours for at least six weeks. Your plant will flower best when the plant is kept in cooler temperatures between 50 and 60°F (10 and 15°C).
Signs of Overwatering: The plant stems and branches will become soft and mushy.
Common Pests: mealybugs, soft brown scale, red spider mites, aphids and fungus gnats.
Client Reviews
Customer Reviews
Write a Review
Ask a Question
12/13/2021
Anonymous

United States
Christmas Catus
Love it . Came fast. Nice looking plant.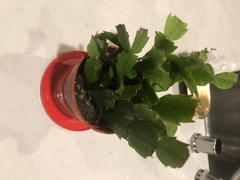 Hi there! Thanks so much for your review! Your Christmas Cactus looks absolutely phenomenal, we really love that your new plant is thriving so well! Thanks for choosing PlantX! Stay Planted. Stay Curious. Stay Healthy. Best, Rochelle PlantX
12/10/2021
test2 t.

India