Brand - Bodegas Ochoa
Bodegas Ochoa - Late Harvest Moscatel (2018), 500ml
Quick Description
Produced in Navarra, Bodegas Ochoa's Late Harvest Moscatel is not just any dessert wine. This rich, honey-gold wine is sweet, aromatic, and delicious.
Key Information
Origins: Navarra, Spain
Varietal: Muscat Dessert White Wine
Grape: 100% Muscat
Vintage: 2018
Vineyard: Bodegas Ochoa
Alcohol Content: 15%
Character: Full-bodied and sweet, notes of honey and white blossom
Pairing: Digestif, vegan cheeses, desserts
Vegan Friendly
Product Overview
The 2018 Bodegas Ochoa Late Harvest Moscatel is full-bodied and superbly balanced between sweet sugar and juicy acidity. This intensely aromatic, rich dessert wine has a beautiful golden hue and opens with aromas of ripe stone fruits, white roses, and honeysuckle. On the palate, it delivers notes of honey, peach, and vanilla, with hints of orange zest and nutmeg. The long honeyish finish offers some nuances of quince and raisins.
The 2018 Late Harvest Moscatel is rich and elegant with a delicate sweetness. Serve chilled as a refined and flavorful digestif, or alongside dessert. Bodegas Ochoa is proud to create sustainable wines based on a foundation of respect and care for the environment. They tend the vines, the soil, and the grapes using sustainable methods that enrich the land and promote biodiversity, as well as preserve the freshest, aromatic flavors for their wines. They are known for producing wines that are full of personality, tradition, and elegance, and their exquisite 2018 Late Harvest Moscatel is no exception.
Ingredients
100% Muscat. Contains Sulfites.
Frequently Asked Questions
What should I serve the 2018 Bodegas Ochoa Late Harvest Moscatel with?
The 2018 Late Harvest Moscatel is ready to act as an accomplice to your favorite vegan desserts. Try it with a creamy, berry-topped cheesecake, vegan creme brulee, vanilla ice cream, or baked apples and salted caramel sauce. You could also pair this honey-sweet Muscat with syrupy baklava topped with pistachios, classic apple pie, or a rich, zesty lemon tart. Make your dessert that little bit sweeter with this deliciously smooth palate-pleaser, perfect for finishing off a savory meal.
Client Reviews
Customer Reviews
Write a Review
Ask a Question
11/15/2021
Christine F.

United States
Absolutely Delicious
I ordered 12 bottles as I can't find this wine anywhere in the USA. PlantX was only able to ship me 6 bottles and a 10.00 coupon for next time. Outstanding Customer Service. Thank you!!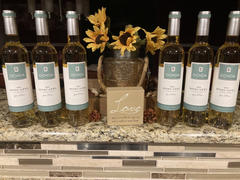 Hi Christine, We're so thrilled that we were able to turn this experience around for you! It's amazing that you'll still get to enjoy the wine that you love, and we hope you come back for more later! Thank you for choosing PlantX! Stay Planted. Stay Curious. Stay Healthy. Best, Rochelle PlantX