Buy Ingredients
Ingredients
Directions
Top Tips
Cereal Pancakes (Vegan) Recipe
Recreate famous TikTok foods like Pancake Cereal with this easy recipe that's vegan and plant-based! Top with your favorite fruits and berries for a delicious morning treat or lunchtime bite that's perfect for your next post or video.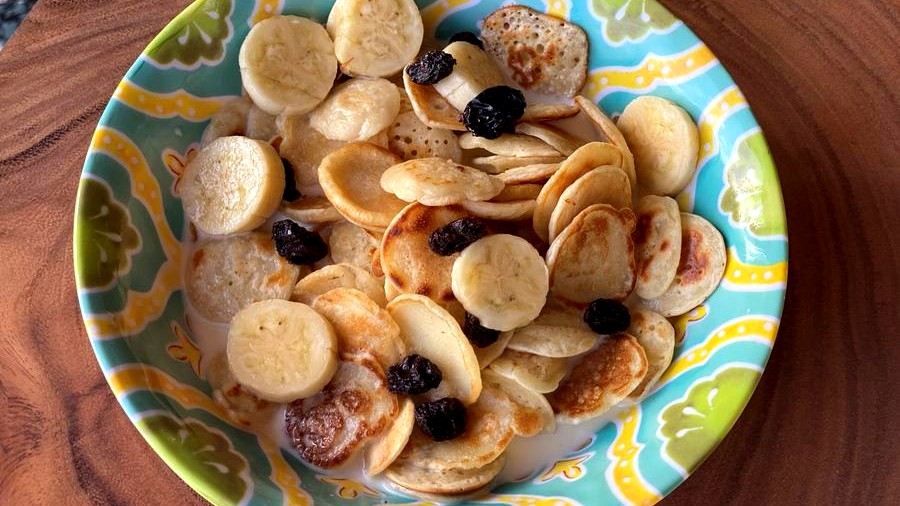 Cereal Pancakes (Vegan) Recipe
Category:

Breakfast

Prep Time:

30 minutes

Servings:

1-2
Here's what you need:
Main Ingredients
3 Cups Of Flour
1 1/2 Teaspoons Baking Soda
1 1/2 Teaspoons Baking Powder
3 Cups Of Non-Dairy Milk
1 medium sized piping bag or ziploc baggie
Fruits and Berried for toppings
Directions
In a medium bowl, measure your flour, baking powder, and baking soda. Mix until combined.
Add dry ingredients to wet ingredients and slowly combine. Do not overmix or use a hand mixer. Visible lumps of flour are okay.
Pour pancake batter into a medium-size plastic baggie and carefully snip or cut a tiny piece off the bottom corner of the bag. The smaller you snip the better the pancake cereal will come out!
Heat a non-stick frying pan or griddle on medium-high heat and using a swirling motion with your wrist, dab quarter sizes of batter onto the griddle.
Cook for less than 30-seconds until small bubbles start to form. Flip and after a few seconds, transfer pancake cereal to a plate or dish for serving.
If you love this recipe…
Buy products in the recipe
Please choose options for all selected products:
Recipes You Also May Like