Buy Ingredients
Ingredients
Directions
Top Tips
Italian Style Deep Dish Pizza Recipe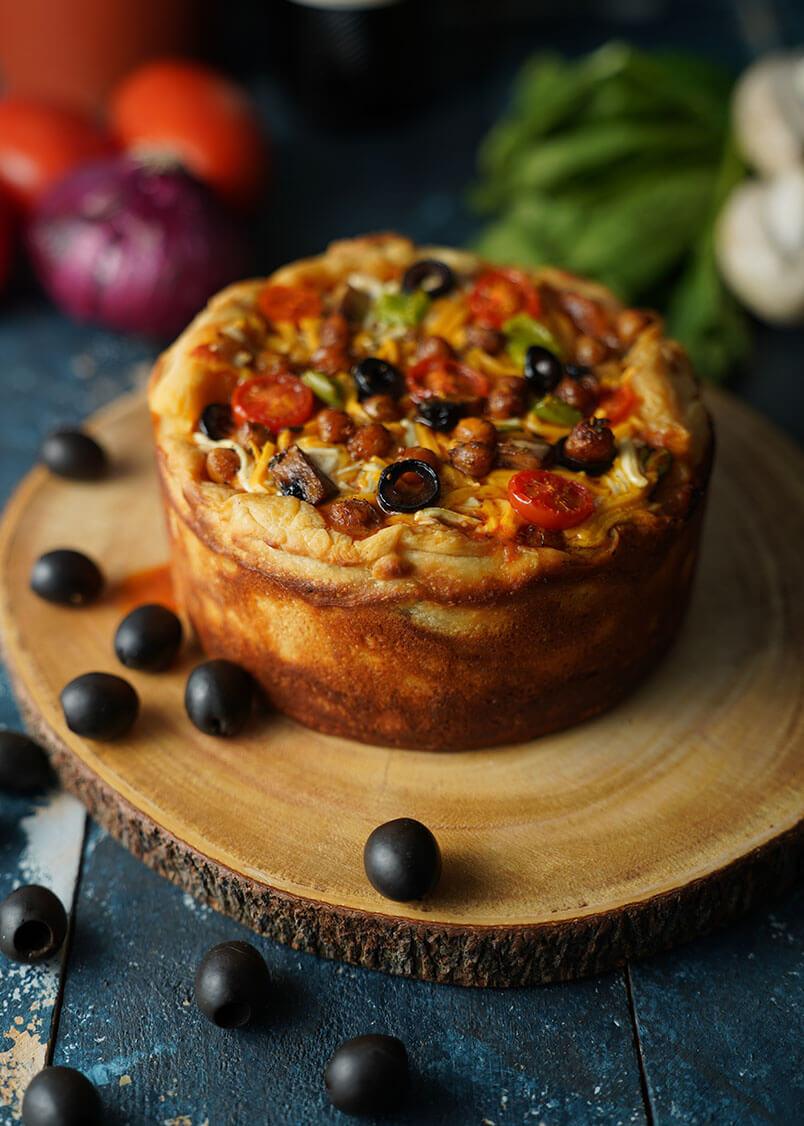 Preparation time:
15 min
Cooking time:
20 min Total time: 35 min
Serves:
6 people
Italian Style Deep Dish Pizza Recipe
Category:

Dinners

Prep Time:

15 minutes

Servings:

6
Here's what you need:
Main Ingredients
1 Roll Ready Made Pizza Pastry, round (or see our recipe for pizza dough)
2 Mushrooms, sliced
1 Cup Black Olives, pitted and sliced
1 Cup Fresh Spinach
1/2 Green Bell Pepper, sliced
1 Cup Fresh Spinach
1/2 Green Bell Pepper, sliced
1 Cup Tomato Sauce (I used a tomato and basil pasta sauce to give extra flavor)
1/2 Cup Shredded Yellow Vegan Cheese
Directions
Preheat the oven at 425F/210C.
Grease a spring form and lay the pizza dough in it, making sure to have enough dough for the edges. I used a 76.5inch/ 18 cm spring form.
Sprinkle the bottom with mozzarella cheese, add part of the mushrooms and the spinach (this helps sealing the bottom) and then start to add casually the rest of the vegetables, olives, and the remaining mozzarella.

Pour the tomato sauce in it, wait until it starts to penetrate among the veggies and then top with the yellow vegan cheese.

Fold the edges onto the pizza, spray the top with olive oil (it helps the cheese not to dry while the pizza is cooking) and bake for 20/25 minutes, until the crust turns gold.
Serve hot.
Buy products in the recipe
Please choose options for all selected products:
Recipes You Also May Like